Well…I suppose I could share with you;)
As I'm sitting here writing a post about soup, of course I can't help but be reminded of the Soup Nazi from Seinfeld. Never, heard of the Soup Nazi? See the bottom of the post!
It seems I've been on a definite soup kick as of late. I suppose it's been brought on by the chilly weather and my need for dishes that are both warming and nourishing. Plus I've always been a lover of soup in the winter.
In the past week or so I've made 3 big batches of soup. It started off with roasted cauliflower, followed by vegetable mung bean, and then on to my latest and greatest – sweet potato & lentil which I'll share with you below.
All my soups are determined by what produce is in my kitchen at the moment. I always start with the biggest pot I have, add all my veggies and whatever else I choose to throw in such as beans and all the extras like garlic, spices, fresh & dried herbs, etc. I don't really like store-bought broths and don't really use them except on rare occasions. If you have the right seasonings on-hand there really isn't a need for store-bought broths or bouillon cubes.
The great thing about making large batches of soup is that you can eat it for days – lunch, dinner, snacks, you name it! Last Saturday I made a huge pot of soup and that was my go-to for the whole weekend. If you live on your own and don't think you will finish it all within 3 days or so, feel free to freeze serving size portions so you can grab them quickly for lunches.
When I make soups I don't really measure anything but I included rough measurements below because I knew I would be sharing the recipe. Feel free to deviate! You can also substitute ingredients for whatever you have on-hand. If you're using dried beans (which are preferable over canned) soak them overnight to reduce cooking time, otherwise add canned beans about half way through (rather than at the beginning) since they've already been cooked.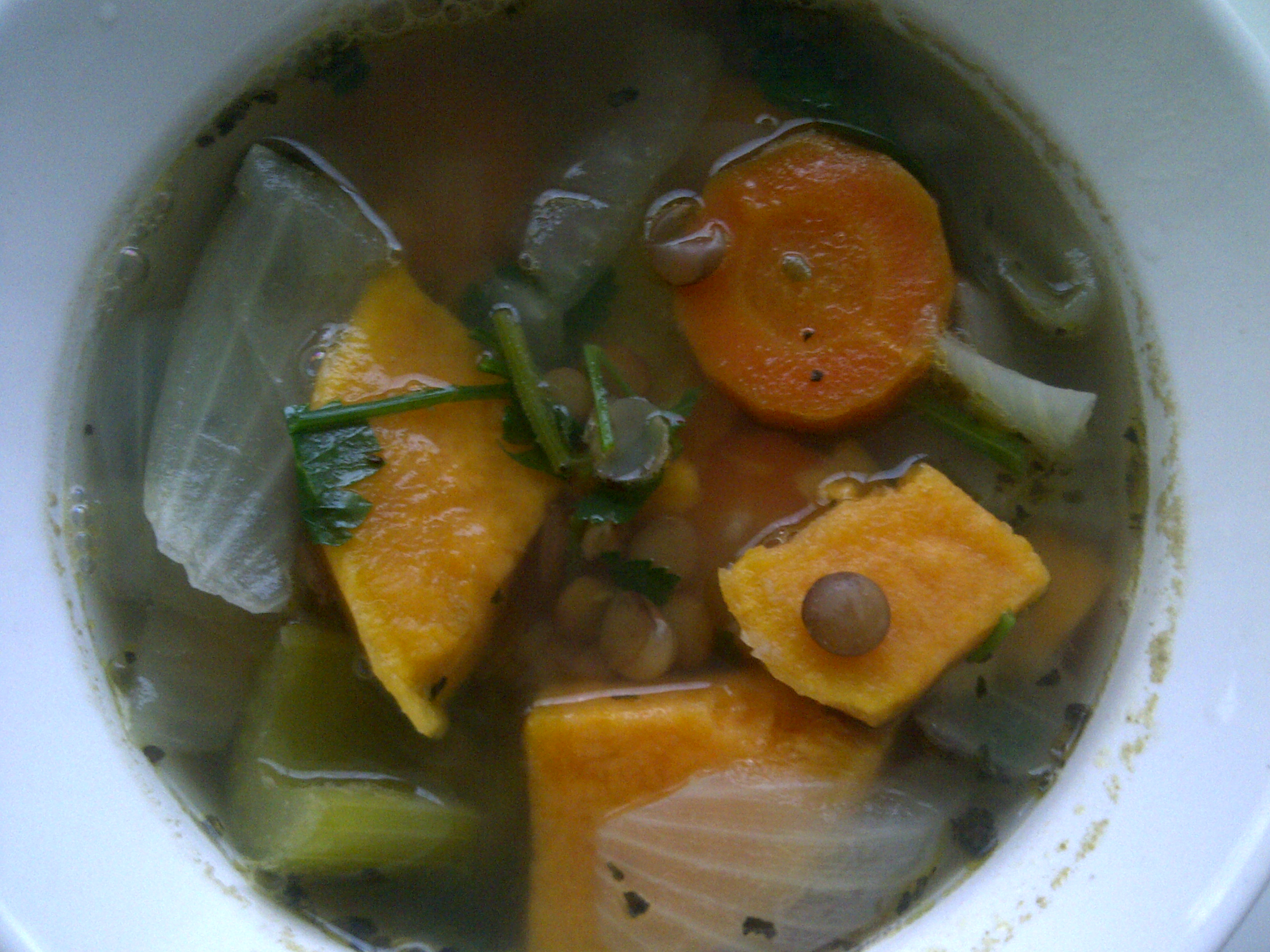 Sweet Potato & Lentil Soup
Ingredients
1 tbs of coconut oil
2 cloves of garlic minced
1 Spanish onion chopped
4-5 carrots diced
3-4 stalks of celery diced
1 large sweet potato peeled and chopped
1 ½ cups of green lentils (pre-soaked overnight and rinsed)
10 cups of pure water (This will vary on size of pot – leave a bit of room at top so soup doesn't boil over!)
½ cup of chopped parsley
2 tsp of dried basil
½ – 1 tsp of sea salt
Feel free to add a few bay leaves or any other dried spices/herbs you have on-hand.
Instructions:
In a large pot add coconut oil and place over medium heat.
Add minced garlic and onion and sauté for 2 minutes.
Add 5 cups of water (or half the full amount you'll be using) and add pre-soaked lentils, carrot, celery, and sweet potato.
As you bring to a boil slowly add the remaining 5 cups of water.
Add sea salt and dried basil (and any other dried spices/herbs you desire).
Boil for 5-10 minutes and reduce heat to a simmer.
Stir in fresh parsley and simmer for approx 30 minutes.
Serve and enjoy!
You'll find that with homemade soup it always tastes even more flavourful the next day. All the more reason to make a big batch!
And now, I'll leave you with this…
Have a great weekend – filled with lots of soup!
Sign-up for updates!
As a BONUS, I'll send you a copy of my Hip, Healthy & Holistic Makeover Guide to get you started.