Happy Valentine's Day!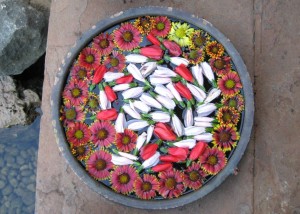 Since this day is all about the L-word, who better to treat than yourself?
I love going to the spa as much as the next girl, but let's face it, it can be pretty expensive to go on a regular basis.
That's why below I've listed 6 easy steps to treat yourself to the ultimate spa-experience from the comfort of your own home – whether that be today or any other day of the year. Just to be clear, I of course don't think you need Valentine's Day as an excuse to treat yourself!
Caring for your body is the ultimate expression of self-love, but like most things it's a choice. You can always choose to eat healthy and nourishing food, choose to think positive and uplifting thoughts, and choose natural beauty products over the ones filled with toxins. You can also choose to relax and unwind after a long day now and then, rather than fill your evenings with endless social commitments.
During the winter months, I have to say this is one of my favorite Friday night pastimes – and a great way to end a busy work week and set the tone for the rest of the weekend!
So without further ado… Continue reading →