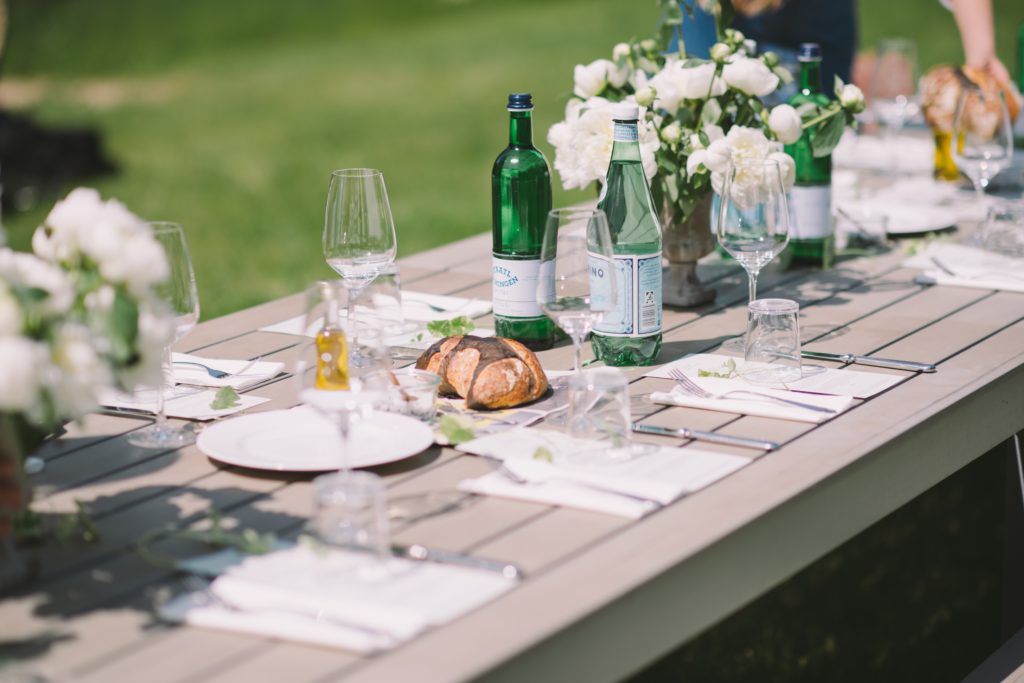 What images pop into your head when you think about living a healthy lifestyle?
Perhaps your mind wanders to fresh-pressed green juices, a plant-based diet, and regular yoga classes.
Maybe images of "skinny" lattes, egg white omelettes, and grueling workout sessions dance around in your head.
Or maybe it's a leisurely meal enjoyed al fresco in the countryside complete with fresh, and seasonal ingredients and great company to go with it. (Oh wait, I think that's one of my images ;))
Of course we all have many different ideas when it comes to living healthily, and they by no means fit so tidily into the boxes I mentioned above.
The ultimate question that matters the most though is whether these ideas serve us well in our life, or if they hold us back.
Do they feel restrictive and leave us "on and off again" a diet?
Or do they feel liberating and pleasurable, like we could live this lifestyle forever?
I talked a bit about beliefs in my post last week.
These beliefs can be so deeply ingrained that we never stop to consider whether they even make sense anymore.
But maybe we should. Especially if those beliefs make us feel miserable.
It always saddens me when I see grown women still caught up in this miserable game. Spending too much of her precious life force obsessing over what to put in her mouth, rather than enjoying her life, and her food.
I believe the key to sustainable eating is finding the place where fuel, nourishment, and pleasure ALL intersect.
This is what I get most excited about when working with my clients – helping them to relate to (and experience) food in a whole different way.
I call it food freedom, and I wrote a post about it a few years back.
Some people believe that food freedom means indiscriminately eating up anything and everything whenever they desire, and that to actually let themselves experience it would surely mean throwing in the towel, or giving up on their health and body goals (whatever those may be).
But the kind of food freedom I'm speaking of here, doesn't come at the expense of feeling great in your body or overcoming health challenges (because that wouldn't feel very freeing, now would it?).
Please don't equate food freedom with a lack of self-discipline, because in my opinion, you can't have true food freedom without it.
Okay, so experiencing this freedom isn't likely the reason why somebody initially comes to work with me and they may not word it in this exact way, however, I find that it's often an underlying desire, whether a conscious one or not.
Perhaps they want to figure out their stomach issues, their digestion, lose the weight, or prepare their body for a healthy pregnancy.
And of course, we'll work on these things.
You see, education is the easy part. Some people really just need the knowledge and the guidance to put all of the pieces together in a way that jives with their body and life best. They take the knowledge and hit the ground running.
If only it could be this simple for everyone.
Implementation is what trips people up the most. And not because they don't want to make the required changes, but because sometimes those changes can be really uncomfortable.
When the soother is taken away, we're forced to deal with the negative emotion head-on. No numbing out.
Of course a soother can take on many other forms (i.e. alcohol, shopping, work), but for many of us it's food.
And while the journey may not always be smooth sailing, I think it's worthwhile to hang in there for the ride and figure it out.
Because living in a diet prison = no fun.
By the way, just to clarify, it is completely possible to be on a restrictive diet (out of necessity) and not feel like you're living in a diet prison.
Sometimes not eating "the food" (whatever it may be) is actually MORE liberating if doing so leaves you with debilitating symptoms or feeling lawful.
In other words don't get sucked into a false sense of freedom and then let restriction slip in the back door (in the form of unpleasant symptoms that restrict your life).
Remember, the freedom I speak of includes feeling good in your body.
At the end of the day, each of us gets to decide what we choose to believe about healthy living and eating as a whole.
That's the beauty of free will, my dear.
You can choose to live behind the bars, or break on out of them.
Didn't you know that they were self-imposed, anyways?
All love,
Elaine
p.s. I always love hearing from you. In the comments below, let me know which beliefs about health have been serving you well in your life. Are there any beliefs that you're ready to give up?