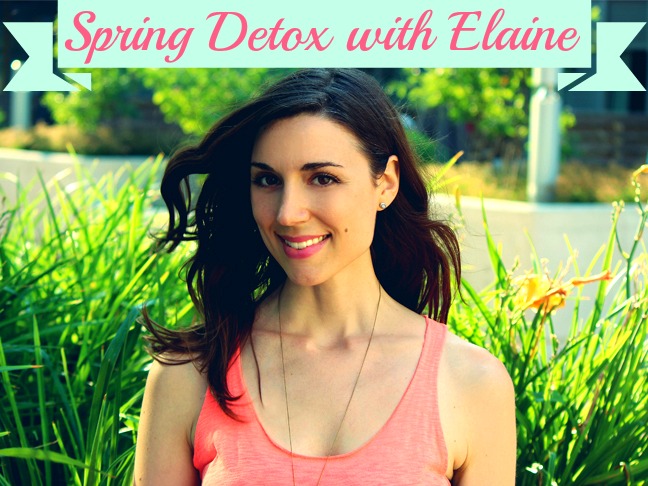 Want to feel lighter, clearer, and full of energy for the summer?
Want to shed some of that weight that crept up on you during the winter?
Let me show you how!
Deep cellular cleansing and detoxification is one of the most powerful tools you can use to transform your body and health on every level.
The benefits are endless and can include:
Weight-loss
Improved digestion
Increased energy
Hormonal balance
Improvements in the look and feel of skin
Mental clarity
Emotional balance
Better BMs!
The list goes on!
The key though to experiencing great results is learning how to detoxify intelligently. This means following an approach that's suited to you and your unique body!
You see, there are so many detox programs and products on the market that completely miss the mark because they don't always take into account some of the most fundamental principles of detoxification, such as eating in a way that maximizes digestion and cleansing, and supporting your body's ability to release waste so you don't experience unpleasant detox symptoms.
Furthermore, some of the foods that are so common on many popular detox programs can actually worsen the symptoms you're trying to alleviate!
This is why just like one diet doesn't fit all; neither does one detox program fit all.
This is where I come in!
Because I'm so passionate about seeing you detox intelligently, I'm offering 90-minute 1-on-1 private detox consults for a limited time this spring. I will be tailoring a detox plan that is perfect for you and your unique body and health concerns!
These sessions are great for you if:
You're feeling a little heavy after the winter and want to get bikini-ready for summer
You struggle with your weight regardless of what you try
You suffer from digestive issues and you're often left feeling bloated after meals
You want to feel energized without relying on caffeine to get you through your day
You're a new mom and looking to get back to your pre-pregnancy weight
You're a busy professional who spends most of her time in front of the computer
You suspect (or know) you have Candida overgrowth
You suffer from skin problems and would like to clear them up naturally from the inside-out, without relying on topical creams
You want personalized support tailored to your specific health challenges and goals
In our 90-minute session I will teach you:
How to apply the fundamental detox principles to your own life
The most effective way to structure your day so can you stick with this over the long-haul and get results fast
Food combining principles that will dramatically improve your digestion and help you lose excess weight
Strategies to help you form new habits while letting go of ones that can sabotage your best efforts
The secret to enjoying your favorites like chocolate and wine while still staying on-track
Strategies for kicking food cravings to the curb and avoiding the 3pm slump
How to customize a detox program to get the results you want while taking into consideration your budget, food preferences, lifestyle, commitment, and emotional factors
What's included:
1 x 90 minute 1-on-1 session with Elaine
Personalized detox plan
Grocery shopping list plus extra tips to help you prepare for your detox
Food Combining Guide to maximize digestion and weight-loss
Delicious and cleansing recipes and meal ideas
2 weeks of unlimited email support

(Bonus)

1 x 20 minute follow-up check-in session with Elaine to make sure you are on the right track! (Bonus)
Here's how it works:
1. Prior to our session you will fill out a health and lifestyle assessment form and email it back to me for my review.
2. I will email you a package of handouts to review before our first session. Handouts include a grocery shopping list and a guide to proper food combining that will help accelerate your detox.
3. We will meet for 90 minutes over Skype or telephone. Update: If you're located in Toronto you also have the option of meeting me in-person.
4. During the session I'll show you how to integrate the various detox principles into your own life, and how to tailor a detox plan to your unique body, specific health concerns and goals. We'll talk about how to structure your day to make it doable for you!
5. Within 48 hours of our session I will email you a tailored detox plan that takes into account considerations such as your work and social life, budget, food preferences, health concerns and goals, emotional factors, and commitment level to a detox program. I will also include plenty of delicious and cleansing recipes and meal ideas.
6. After receiving your plan you will have unlimited email support with me for 2 weeks to address any questions or concerns that might come up.
7. Within a few weeks of working together (or longer) you can use your 20-minute telephone check-in to ensure you are on the right track!
Sound good?
Before we go any further, check out the below frequently asked questions to see if this detox session is right for you.
FAQs
Is this a juice cleanse, and do I need to buy a juicer?
While no, this isn't a full-on juice cleanse, fresh vegetable juices are a part of it. If you don't have your own juicer, ideally you'll have access to fresh juice. Typically I'll be recommending that you start your day with a fresh veggie juice, however, you can still experience great results without the juice when you're starting out, and can substitute lemon and water and green smoothies if you prefer. I'll be giving you recipes!
How long is the detox plan?
As long as you like! Really it depends on your starting point (health status), health goals, and how long you're personally willing to commit. Hopefully you'll feel so great that you won't want to revert back to your old ways of eating! Because this isn't a juice-only cleanse and includes plenty of delicious whole foods, you could actually do it forever. I view this more as a lifestyle, so I like to get people set up on something they can stick to over the long-run, even if it means starting off a bit slower, and then stepping up the ante when the time is right.
This is where I will be guiding you on choosing a detox plan that is just right for you. I usually recommend people stick with it for a minimum of 2 weeks, but for some people it might make sense to stick with it for 4 weeks until certain symptoms clear up. Don't worry I'll ensure that it is completely sustainable for you!
Do I have to give up my morning coffee?
A detox is a great time to kick a caffeine addiction; however, your morning cup of coffee isn't going to hold you back from getting results. If you're drinking 5 cups a day on the other hand, you'll definitely want to cut down. If you are still having your morning cup of coffee, I'll show you how to place it in your daily routine in a way that minimizes it's acidic and dehydrating effects. I'll also share with you some tasty and healthier alternatives that may just help you kick the coffee for good!
What if I want to continue working with you after our session?
If you decide after our session that you would like to continue working with me, I will gladly discount the price of your detox session off the price of any of my 3-month consulting/coaching packages. Consider this your chance to "test the waters" before committing to hanging out with me a little bit longer!
Ready to get started on feeling absolutely amazing?!
Registration is now closed. Please visit elainebrisebois.com/workwithme to learn about other ways we can work together.
Sign-up for updates!
As a BONUS, I'll send you a copy of my Hip, Healthy & Holistic Makeover Guide to get you started.