Just for fun! (And a day late I might add.)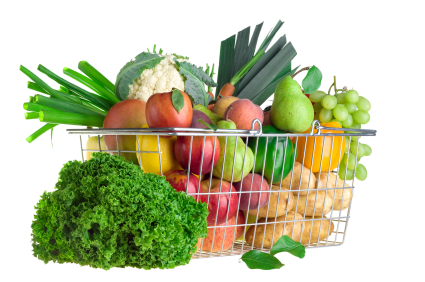 Ever wonder what a nutritionist buys for groceries? Here's your chance to peek into my grocery basket!
I thought this would be a fun post since this seems to be one of the questions I get asked quite frequently.
I admittedly do a lot of grocery shopping. I actually love food shopping! Sometimes I laugh to myself when I think about what the people at my local grocery store must think about me. I'm that girl who's always lurking in the produce section, examining the avocados trying to find the ones that have the perfect firmness and aren't overly ripe.
It's not uncommon for me to hit up the grocery store 3 times per week, and this is sometimes on top of my health food store and farmer's market visits! It's not that I buy loads of stuff each time I go (notice I said grocery basket and not cart?), it's just that I always like to eat fresh. I also go through a lot of produce in a week, making it necessary to make frequent trips, even if it's just to pick up a couple heads of lettuce and a few avocados (there I go again!).
Furthermore, you can only stock up on so much fresh produce at once before things start to go bad. Wilted greens anyone? Also, if I'm going to buy fresh fish or meat, I prefer to cook it that way (from fresh!), rather than tossing it in the freezer to cook later.
Sooo…
Here's what's in my grocery basket! (Note: I don't buy ALL of these things every single trip).
Greens for juices, smoothies and salads – (usually 2-3 of the following) – kale, dandelion greens, swiss chard, collard greens, spinach, romaine, red leaf lettuce, parsley, cilantro, etc.
Veggies for salads, soups, sautéing, baking and snacking! – tomatoes, cucumber, carrots, celery, sprouts, green/red onion, mushrooms, beets, broccoli, asparagus, zucchini, sweet potatoes and whatever else is in season.
Fruit – apples, lemons/limes (for juices and salad dressing) and whatever else is in season (i.e. berries, etc).
Avocados – I buy a lot of these!
Grains and legumes – quinoa, millet, sprouted grain bread, chickpeas (for making hummus), etc.
Organic/free-range eggs, fresh wild fish (often salmon), goat cheese (occasionally), almonds (for homemade almond milk), etc.
Note: Although I'm not a vegetarian or vegan, I don't eat a lot of meat or dairy. Whenever I buy either though, I try to get the highest quality I can get my hands on!
Organic unsalted butter, olives, dark chocolate (70%), tea (loose leaf herbal, green and rooibos – I love David's Tea!)
Other staples that I replenish as needed (sea salt, stevia, tamari, cold pressed coconut oil, EVO, raw honey).
Of course there are other items I buy infrequently, but for the most part these are my staples.
There you have it!
What's in your grocery basket??
Sign-up for updates!
As a BONUS, I'll send you a copy of my Hip, Healthy & Holistic Makeover Guide to get you started.