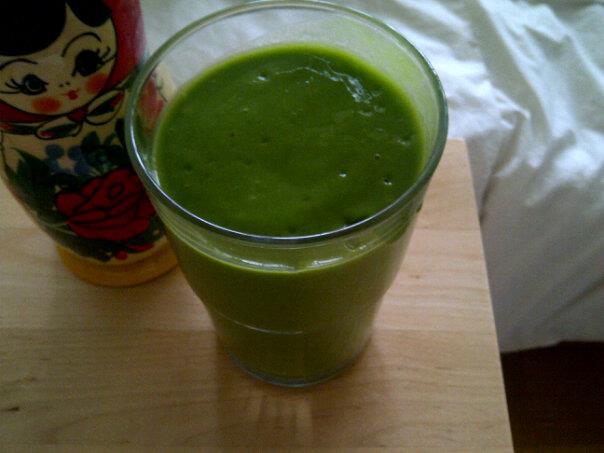 I've always loved my green smoothies, but then it all changed.a few years ago when Breville entered my life.
Soon enough, my morning green smoothie was replaced with my morning green juice.
Even though I still enjoyed my green smoothie from time-to-time, I found that whenever I made myself a smoothie I opted for more of the fruit & avocado based combos sans the leafy greens since I was already getting a great deal through my juices, not to mention the large amounts I was consuming in my daily salads.
But…things changed again, as they so often do, and over the past few months I've had a strong desire to reintroduce more of these glowing green smoothies into my daily repertoire. Not as a replacement to my green juice but more of an accompaniment.
Here's one of my favourite recipes below. I enjoyed this earlier today as a delicious post-yoga snack. It hit the spot perfectly and was just what I wanted!
Glorious "Glowing" Green Smoothie (Mango-Style)
1/2 cup of frozen mango (if using fresh mango add some ice cubes)
1 banana
4-5 leafs of kale de-stemmed
1 cup of pure water or coconut water
Blend until smooth.
If you want your green smoothie to glow bright green as pictured above, be sure to use lighter coloured fruits like mango, apple, pear, banana,etc. If you don't mind it looking a bit swampy then feel free to add in those dark and delicious berries.
Another tip is to swap the banana for 1/2 an avocado to give it a little more density and some added healthy fats to boot!  I love using avocados in my smoothies as it makes them super creamy tasting. If you're using avocado just be sure to pair it with a sweeter tasting fruit or use a hint of natural sweetener.
Now go get your glow-on!
xo Elaine
Sign-up for updates!
As a BONUS, I'll send you a copy of my Hip, Healthy & Holistic Makeover Guide to get you started.