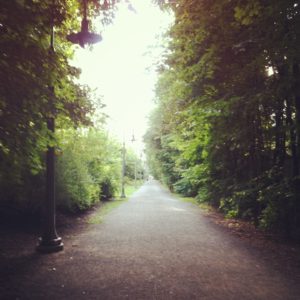 Not too long ago I shared some of my daily practices over on the website Levoleague, and now I'd like to share them here with you. The original post was entitled The 3 Practices for Having a Successful Day and you can read it here.
Do you ever have those days when you feel so cool, calm, and collected? You feel energized, productive, and work flows easily. Then there are the days you feel overwhelmed at work, unable to focus on any one task, and by the end of the day you feel so frazzled you just want to drown yourself in a glass (or bottle) of wine.
Like most people, I've experienced both at different times in my life. Thankfully though I find I experience the latter to a much lesser degree these days, and it's not because my days are any less busy than they were before.
I find it all comes down to the way I set up my day. Here are three daily practices that I've found to be extremely helpful in keeping me centered and far less likely to get thrown off balance when unexpected challenges arise out of the blue—as they often times do!
1. Morning ritual
I carve out at least 20 minutes in my morning to sit quietly before my work day begins. I usually sit on a comfy cushion with one of my favorite teas and do a short meditation, read a few pages from an uplifting book, or just sit quietly with my thoughts. When I do this, I'm left feeling calm, centered, and ready to take on my day. I find I'm more focused, make clearer decisions, and I'm more productive at work. I look forward to this ritual, and it actually helps me get out bed because I know I get to enjoy some tea and quiet time before diving into my workday.
2. Get outside
I commit to moving my body every day. Not to burn calories, but to move my body in a way that feels good, keeps me flexible and strong, and helps fuel every cell of my body with oxygen. Deep breathing in the fresh and open air is so more rejuvenating than breathing the recycled air in the gym—not to mention the added nutritive benefits of the sun!
I personally love walking so each and every day, I lace up my sneakers and get outside. Sometimes it's first thing in the morning, but I also love going for a nice long walk on the trail near my house (pictured above) after my work day is officially complete. I find this sets the tone for a relaxing and peaceful evening ahead.
3. Separate the workday from dinner
It's important to unplug from any stressful energies you may have absorbed from other people or situations at work. Many people find it easy to eat healthy in the daytime when they're preoccupied with work, but emotional eating often rears its ugly head in the evening.
Going for a walk out in nature, practicing yoga, or soaking in a warm bath are all great ways to unwind after the work day. Even just a few minutes of deep breathing can alleviate the tension that causes us to overeat. Eating while stressed and anxious is a recipe for indigestion—bloating, heartburn, stomach aches. No thanks!
Do you have any favorite practices or rituals that you like to include in your daily routine? Please share them with me in the comments below!
Sign-up for updates!
As a BONUS, I'll send you a copy of my Hip, Healthy & Holistic Makeover Guide to get you started.