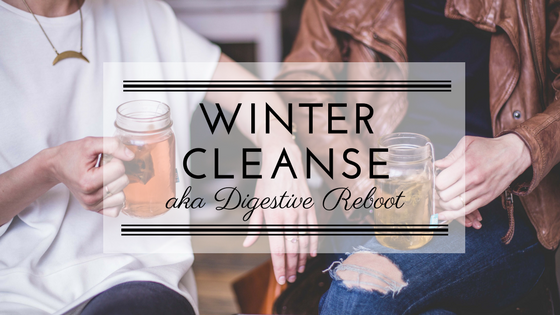 Feeling sluggish? Low energy? Bloated? Digestion not up to par? Trapped in a cycle of overeating?
If you feel like you need a little help in this area I've got just the prescription!
I call this a gentle winter cleanse, however, it's really more of a digestive reboot or reset.
While cleansing is something that's recognized as a great tool for the change of season, particularly spring and early autumn, you can still support your body's natural built-in detox mechanisms all throughout the year by paying attention to what you're eating, along with other lifestyle choices.
What I'm offering today though is a simple little protocol that you can put into action anytime or place whether you're feeling sluggish or low on energy, or feeling like your digestion isn't running as smoothly as it could be (i.e. you're experiencing indigestion or bloating), or maybe you've found yourself in a pattern of overeating less than ideal foods and you're having a hard time breaking the cycle.
This protocol can help you get back on the right track and give your digestion a rest, all while still providing your body nourishment.
You can follow this plan for as little as one day, but I suggest following it for at least 2 (or even 3) days for best results. This will depend on your current health status, lifestyle, and the intensity of the plan you wish to follow.
It's really quite simple and you have full control over the menu.
Basic Guidelines
1) Consume any of the following during the protocol. Herbal teas, fresh vegetable juices, green-based smoothies, veggie broths, bone broths, and blended soups. You can pick and choose based on your preference. Unsweetened dairy alternatives are okay, as are seasonings for soup (i.e. sea salt, herbs, a drizzle of olive oil). You're taking a break from: alcohol, flour, grain, meat, beans/legumes, nuts/seeds, and added sugar (with the exception of the optional raw honey I noted in the menu below), along with most other solid food.
2) You control the intensity. For example, consuming only fresh veggie juices and broths will be more cleansing (and intense) than blended smoothies and soups.
3) Drink plenty of pure water. Although this protocol is very hydrating already, be sure to drink pure water throughout the day. You can also sip on herbal teas and broths.
FAQ
Q. Can I still drink coffee?
A. This is the most commonly asked question! Ideally you will stick to herbal teas but I know that this one factor alone is one of the biggest excuses people give for not following it, or the reason why they will put it off for a more "convenient" time (I've fallen into this category many times too). So with that said you can still have one cup of coffee if you really want it (either taken black or with a splash of milk/cream or dairy alternative – NO sugar though). Although there may be many other reasons to take a break from coffee, since it's technically a liquid you can still enjoy the digestive rest aspect of the protocol (unless of course it contributes towards digestive-related symptoms that you're aware of – then avoid it).
Other Logistics
I personally stop taking all supplements during this protocol with the exception of a probiotic. You'll have to decide what's right for you. This does NOT apply to doctor prescribed medications.
Take into account your lifestyle and modify as necessary. For example, the last time I followed this I went for 5 days while keeping up with my regular busy work schedule, and workout routine (i.e. spinning classes and heavy weight-lifting). For this reason I added in some protein powder to my smoothie that I had post-workout. If you're only following the protocol for one day this likely doesn't apply to you – and if this is your first time following something similar then I would suggest more gentle exercise like walking and yoga.
Sample Menu
* Use all organic ingredients where possible
** Make quantities suitable for you (i.e. for soups you can always make bigger batches and store in the fridge)
Morning
Ginger tea with fresh lemon
Breakfast
Green Smoothie (2 handfuls of baby spinach, 1 chopped ripened Bosc pear, ½ ripened banana, ¼ avocado, ¼ tsp of grated ginger, a few sprigs of fresh mint + water for blending. Optional: add some lemon juice.)
Lunch
Broccoli Soup (Directions: steam broccoli florets until soft and then blend with a drizzle of olive oil, a pinch of sea salt, and water and/or veggie or bone broth. Reheat on stove as needed.)
Dinner
Leek and Potato Soup (Directions: simmer chopped up leek and potato in some water until soft, drain and transfer to blender. Blend with a drizzle of olive oil, pinch of sea salt, water and/or veggie or bone broth. Reheat on stove as needed.)
Night
Warm Golden Milk (1 cup of dairy alternative whisked w/ ½ tsp of turmeric powder. Heat on stove until hot but not boiling. Optional: small drizzle of raw honey is okay)
This sample menu is simply to give you some direction and inspiration. Follow a menu that suits your tastes and lifestyle using the allowable foods/liquids noted under the guidelines above.
Here's an easy recipe for veggie broth that I posted on Instagram.
Here's a link to homemade bone broth. You can make it in a slow cooker or stove top.
Here's a recent juice recipe I made that's nice for the wintertime (if you have a juicer!)
This is how I store my soups and broths.
Have questions?
Write them in the comments below and I'll do my best to answer them!
xo Elaine