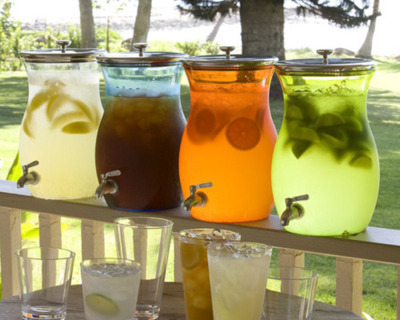 I don't have to remind you how crucially important it is to ensure you're staying hydrated during these hot and sweaty summer months or why you need to drink plenty of water. Instead, let's share our favourite cool and refreshing summer bevvy recipes!
I know sipping on water all day long can get a little boring sometimes. While I don't endorse the usage of those heavily marketed "powders" laden with artificial sweeteners and colours (that only lead to further dehydration), I do recommend jazzing up your water to make it more enjoyable so you'll be inspired to drink more of this life-generating liquid!
It might be as simple as cutting up some fresh fruit and soaking it in your water overnight, or brewing up some herbal iced tea or homemade lemonade.
Here's what I'm sipping on right now:
Lemon/Ginger Iced Tea with a Kick
2 x lemon ginger herbal tea bags brewed in my large tea-pot
I'll let this brew anywhere from 10-30 minutes (or longer) depending on how much time I have. Sometimes I'll just let it brew all day long while I'm out and about doing my thing!
Next I fill a glass jug with ice and pour the brewed tea over top.
I then add in a few slices of fresh ginger and a few shakes of red chili flakes or cayenne plus a few drops of stevia for added sweetness.
I usually let this sit in the fridge for a few hours so it gets nice and cool before   getting my sip-on!
Alternatively you can make this before you go to bed so it's ready to go in the morning.
______________________________________________________
Please share your favourite summer bevvies below!
Elaine
Sign-up for updates!
As a BONUS, I'll send you a copy of my Hip, Healthy & Holistic Makeover Guide to get you started.