Everybody needs a little indulgence in their life from time to time.  Yes, nutritionists included!
When it comes to indulging though, my personal motto is: Do it right, or don't do it at all.
This brings us to the next stop on our Sunday afternoon Junction excursion – Delight!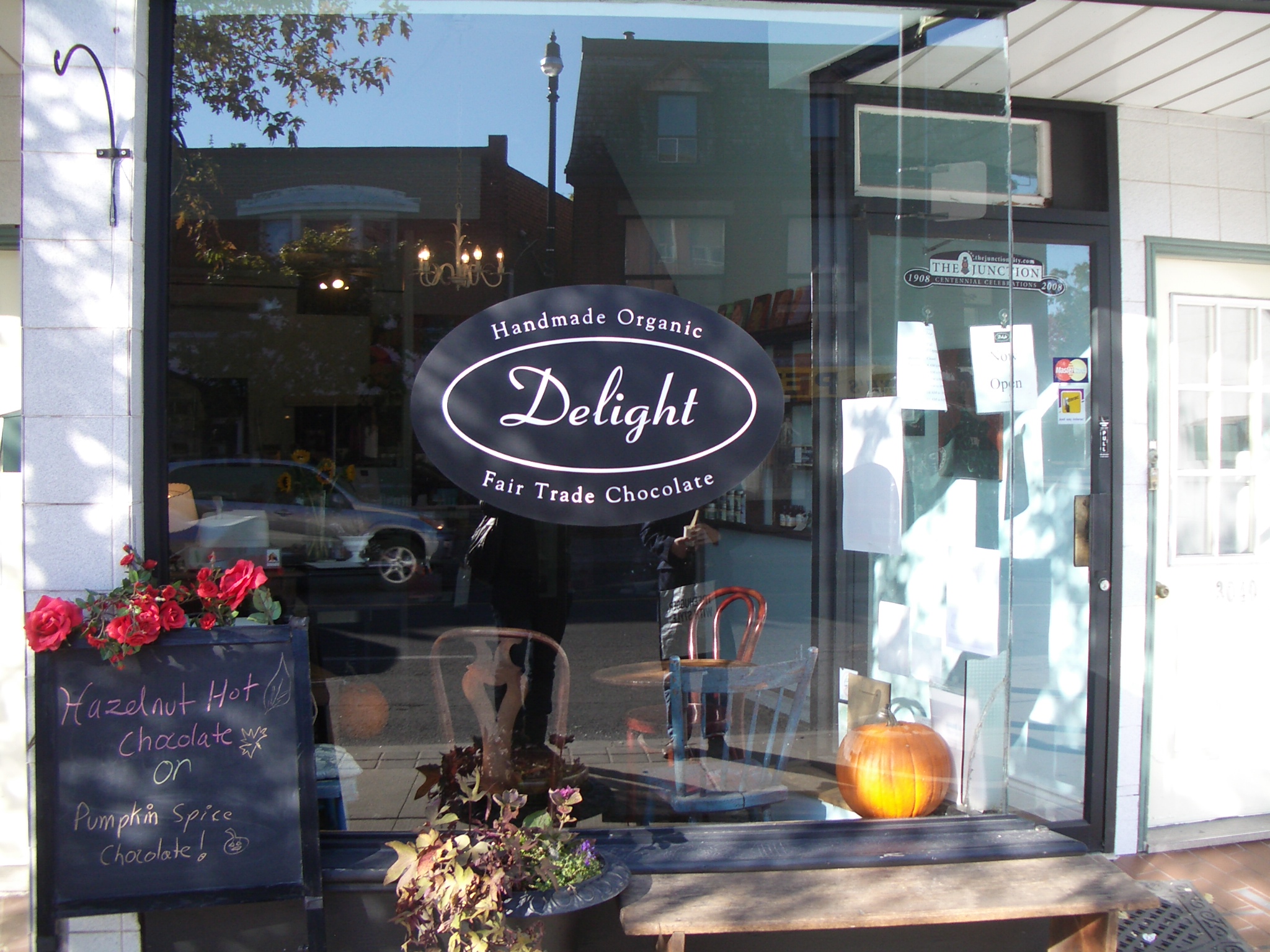 Delight is a quaint little shop that specializes in organic, fair trade chocolate. Each hand-crafted item is made using all-natural quality ingredients, so rest assured that there will be no artificial crap or additives finding their way into your chocolate treat.
One thing I found quite interesting was the array of unique flavours they had to offer. After careful contemplation, I selected a dark chocolate square with an organic ice wine filling. So delectable, it left me completely satisfied. Like any "real" quality chocolate, a little goes along way, so you're not left feeling the need to devour a whole bar.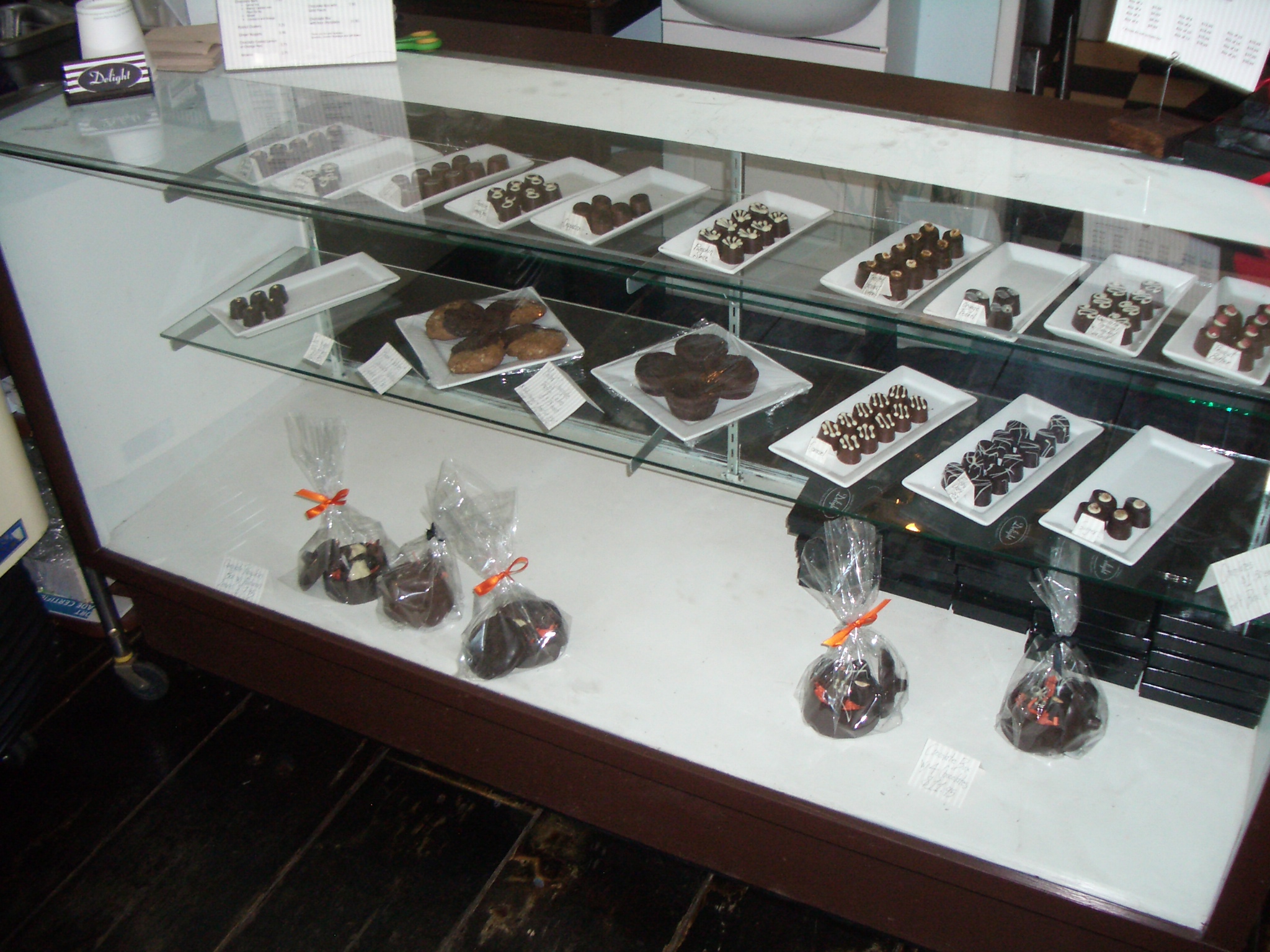 Now I have to say, we originally stopped in to sample the chocolate, but after speaking to one of the owners we learned about another one of their specialties – ice cream!  Not only is it all-natural, organic and made in-house, but all their flavours are seasonal. What that means is, if you decide to visit the shop in October expecting to get strawberry ice cream, well my friend, you're out of luck! That's because they only source fresh and local ingredients, and as most people know, strawberries are only available locally in the summertime.
With this knowledge in hand, my friend decided to splurge on a cup of the pumpkin spice ice cream, with promises to let me sample. And how could I resist? After all, pumpkin is my favourite gourd!
I have to say my taste buds were in heaven. It was delicious, in every sense of the word. And after stepping back out into the street and leaving the little shop behind, I have to admit I was secretly a little envious I didn't get a scoop of my own.
Delight definitely gets my splurge-worthy seal of approval. See, it is possible to indulge while still adhering to most (if not all) of the "real food" guidelines. Now putting my "nutritionist hat" back on for a second, I'm not by any means encouraging you to gorge on chocolate and ice cream every day, but if you're going to indulge (most of us will at some point!) at least make it worth the added calories. No point in wasting it on some pre-packaged "treat" that has been sitting on the store shelf for a year and loaded with artificial flavourings and preservatives. Kapeesh?
So there you have it! Next time you are in the Junction and in the mood for something decadent, I would definitely recommend hitting up this place. I will probably make a trip back just for the pumpkin spice ice cream alone! My only concern is that it's only offered for a limited time.
My suggestion?
Run, don't walk!
Delight |3040 Dundas Street West, Toronto
Check back soon for my final post of this series – Real Food in the Junction Part – 3.
Sign-up for updates!
As a BONUS, I'll send you a copy of my Hip, Healthy & Holistic Makeover Guide to get you started.