I'm a bit of an explorer, always have been.
One of my favourite pastimes since moving to Toronto has been wandering the streets, exploring the many little pockets and neighbourhoods the city has to offer in search of hidden gems. More than ever though, the "foodie" in me loves to discover new restaurants, cafes and eateries in hopes of  finding unique "real food" experiences that leave me feeling nourished, revitalized and inspired.
Case in point, this past Sunday my friend and I decided to spend a perfect Sunday afternoon exploring the Junction, a neighbourhood in Toronto. I had been wanting to visit the area for a while since hearing that a few new health-conscious cafes had cropped up that were serving tasty eats. So I figured it was about time. 
The first order of business was lunch.
Destination – Rawlicious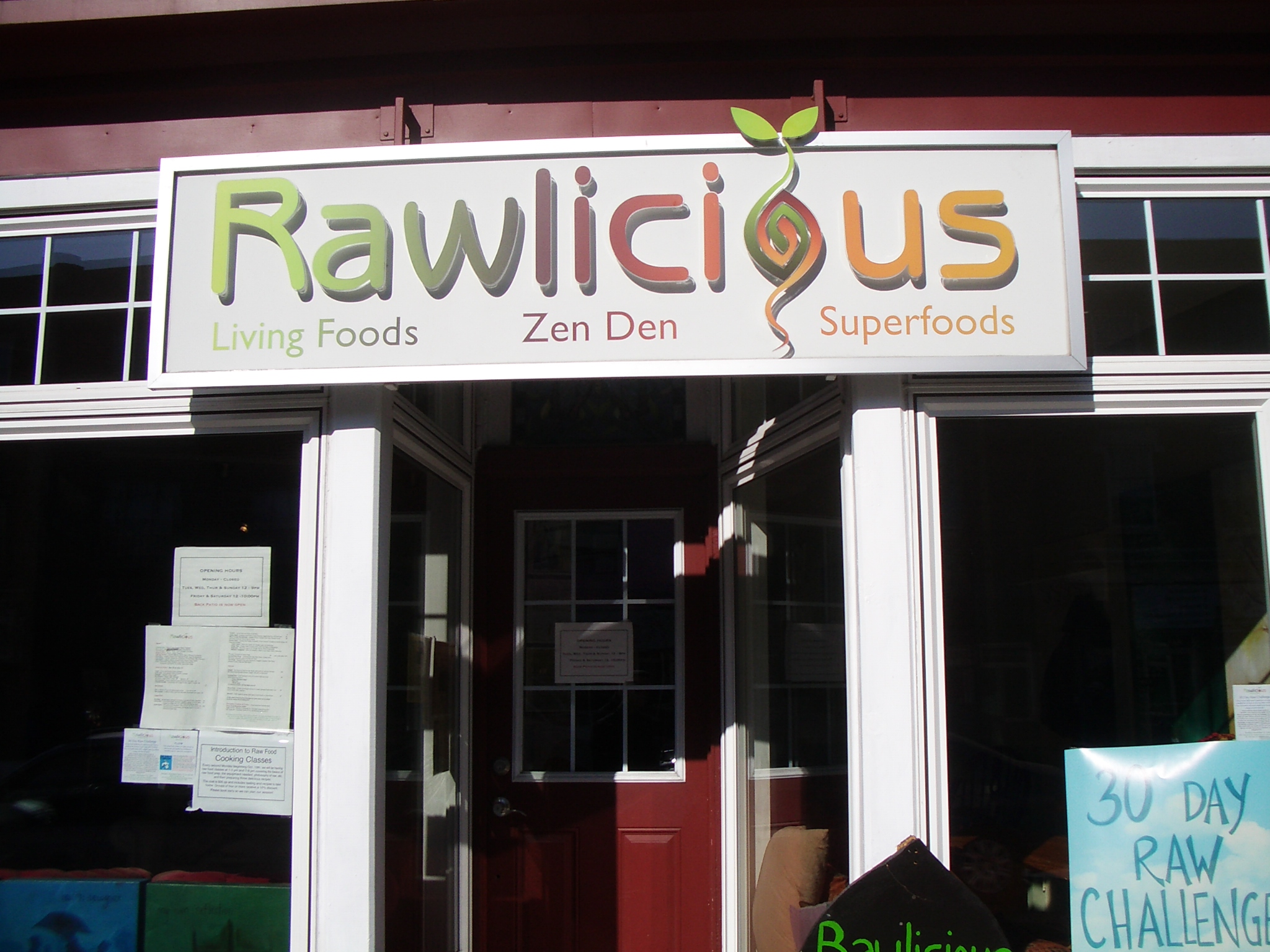 Rawlicious is a cool little cafe that serves up (you guessed it!) raw and vegan cuisine. Nothing is cooked above 118 degrees F which means that all enzymes, nutrients, vitamins and minerals are intact. (Note: cooking at high temperatures can destroy these vital elements). Everything is 100% raw (with the exception of a few ingredients) and 100% organic (unless availability is an issue). The vibe is really cozy and totally laid back. It wasn't very busy when we stopped in so we opted for one of the best seats in the house; a little cove in front of the window furnished with comfy pillows on which to sit upon.
The menu offered an assortment of juices, smoothies and other delicious drinks.
I opted for the "Lean Green" juice  to get my daily dose of green loving, while my lunch date went for the Berry Green Smoothie.
 To start we selected the Nacho Platter, which believe me, is much healthier than it sounds! It came with all the fixings (salsa, guacamole and dairy-free "sour cream") and "Rawlicious" chips. Delicious!
For our mains we both went the sandwich route. For me the "Rawitch" which consisted of veggies and sprouts on onion bread, while my friend opted for the daily special – the "mock" chicken sandwich. Let me digress. I have to laugh while writing this because this is a post (and blog) about "real food" and here I am talking about "fake" chicken. Well let me tell you, there was nothing fake about the ingredients that went into making that "mock" chicken. Haha. I believe it was actually made from raw cashews!  Totally real and healthy.
Check out our sandwiches below.
After having ate all that raw and living food, we left Rawlicious feeling energized and ready to take on the rest of the day. And as tempting as the dessert menu looked (Rawkalicious cookies?!), we decided we needed to save a little room in our bellies for our next destination.
To sum it up, if you are a raw foodie, a vegan, a vegetarian, on a wheat-free or dairy-free eating plan, or you just want to try something healthy, unique and delish  – this place is definately for you!
Rawlicious | 3092 Dundas Street West, Toronto
Check back soon for Real Food in the Junction – Part 2
Sign-up for updates!
As a BONUS, I'll send you a copy of my Hip, Healthy & Holistic Makeover Guide to get you started.