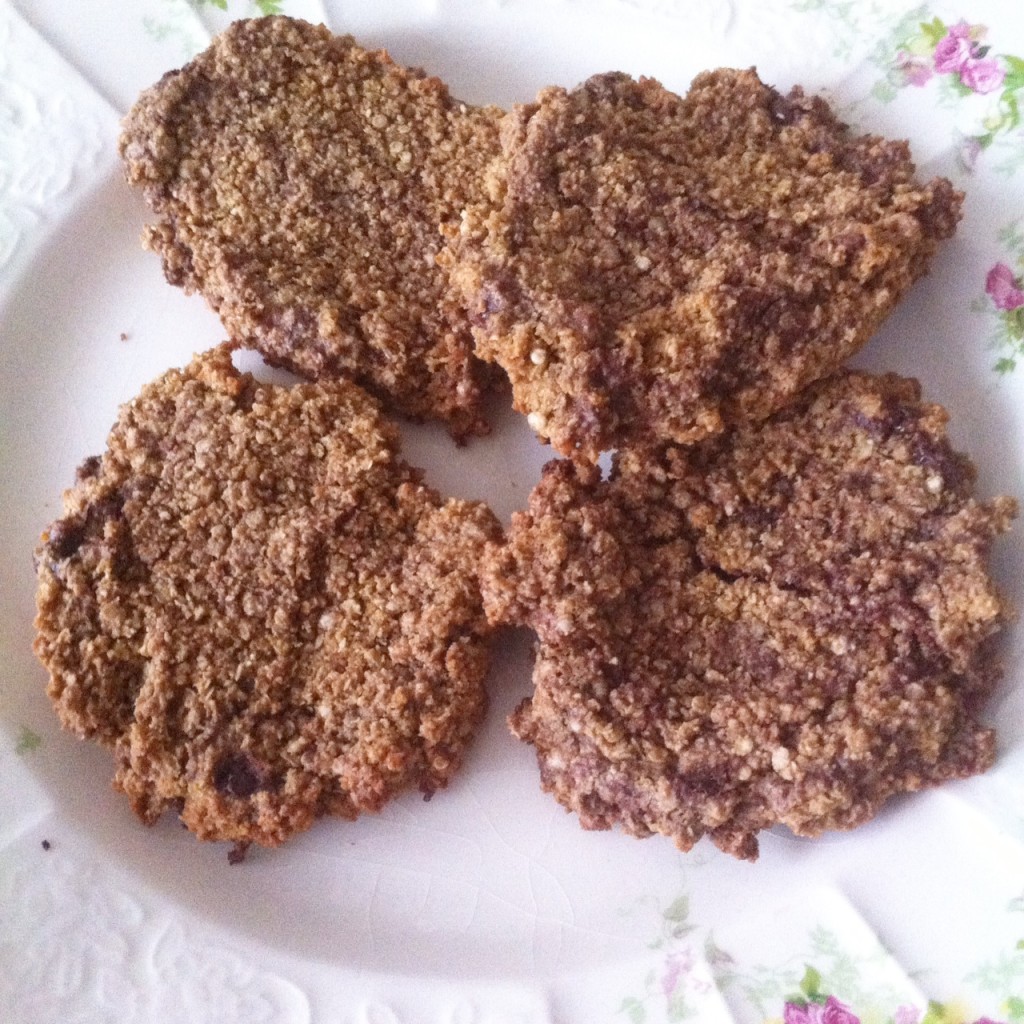 When I was a young girl I used to bake chocolate chip cookies with my grandmother in her kitchen. I have fond memories of dancing around her kitchen and dining room waiting impatiently for the cookies to finish baking. It was always the same song playing on her old record player – Music Box Dancer by Frank Mills – my favorite at that time, and I think it was probably me that kept requesting she play it again.
Recently I've been thinking a lot about these cookies so I decided to dig up her old recipe and put my healthy spin on them. Of course the original calls for shortening, white flour, and white + brown sugar. I swapped some of the ingredients and scaled back on the sugar and what I ended up with was a delicious and "healthier" alternative to the original. I'm not sure if healthy and cookie can go in the same sentence since these are still filled with chocolate chips and sugar – albeit a natural sugar. Nonetheless, if you're looking for a sweet treat and have a hankering for chocolate chip cookies, these are a great option. And yes, they're gluten-free yet they're still soft and chewy. This recipe is a win!
Recipe // Gluten-Free Chewy Chocolate Chip Cookies
Ingredients:
– 1/4 cup of butter
– 1/2 cup of coconut sugar
– 1 egg
– 1 tsp of vanilla extract
– 1/2 tsp of sea salt
– 1/2 tsp of baking soda
– 1/2 cup of coconut flour
– 1/2 cup of quinoa flakes
– 3/4 cup of chocolate chips
Directions:
1. Mix flour, quinoa flakes, sea salt & baking soda.
2. Melt butter and mix with coconut sugar, add vanilla and (beaten) egg.
3. Stir in flour mixture. Add chocolate chips.
4. Bake for approx. 10-12 minutes @ 325 degrees.
5. Let cool for at least 10-15 minutes so they don't break apart.
Makes approx 12 cookies.
Enjoy!