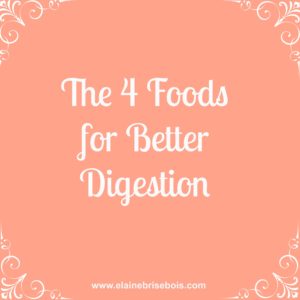 Today I want to give you some quick and easy tips for supporting your digestion starting at your very next meal using foods you already have in your kitchen.
Okay you might not have all of them, but I know you likely have at least a few – and if you don't, well you can easily and inexpensively pick up most of them at your local grocer.
I know sometimes it can be tempting to just pop a Tums when you're experiencing tummy troubles or indigestion, but consider that you might already have just the remedy you need, albeit a natural one, hanging out in your cupboard just waiting to be discovered.
As Hippocrates, the Greek physician known as "the father of medicine" said:
~ Let food be thy medicine and medicine be thy food ~
The 4 Foods for Better Digestion
1. Bitter Greens such as arugula, kale, Swiss Chard, and dandelion are great additions to a starter salad at the beginning of your meal. Their bitter quality will stimulate the production of your body's digestive secretions (saliva, pancreatic enzymes, bile) and prime your body to digest your food better. Plus it never hurts to get more alkalizing greens into your diet. My favorite go-to leafy salad green is baby arugula – I love its fresh and peppery taste!
2. Spices such as ginger, fennel, anise, caraway, cloves, and cinnamon all have a carminative action in the body – meaning they can relieve indigestion and help with bloating and gas. Add a pinch of cardamom to your smoothie, grated ginger to your salad dressing, or freshly ground cloves, cinnamon and anise seeds to your homemade chai tea. The sky's the limit when it comes to the many ways you can spice up your diet and support your digestion.
3. Herbs such as chamomile, lemon balm, and peppermint are great for making tummy calming herbal infusions. I always have a stash of dried herbs on hand for this very reason. One combination I particularly enjoy is 1 tsp of chamomile + 1 tsp of lemon balm infused in a cup of boiled water and left to steep covered for 10 minutes. Both of these herbs have carminative actions so they're really great at relieving indigestion. They both stimulate digestion as well (especially chamomile with its bitter quality) so can also be drunk before meals as a pre-dinner aperitif.  Also, their light sedative effect makes them relaxing and restorative for the nervous system – especially great when you have digestive upsets as a result of being anxious or stressed.
4. Fermented Foods such as kimchi, sauerkraut, miso, kefir and yogurt are all naturally-rich in probiotics – the healthy bacteria that helps our digestion function properly and supports our immune health. The flora in our gut is easily disturbed by the use of medications, especially antibiotics, poor diet, alcohol, smoking, and stress. Including fermented foods in our diet on a daily basis can markedly improve our gut health. When buying yogurt always opt for full-fat and unsweetened – as low-fat and flavoured varieties are always higher in sugar.
Have a favorite food or dish that supports your digestion? Share with me in the comments below.
Here's to a healthy and happy gut!
Elaine