Honestly. I've wanted to spread the good word about this place for some time now. This post is a bit overdue and I want to say thank you to those of you who patiently waited for me to write it. 
If you've read any of my earlier posts about my trip to the Junction, you may remember me referencing the beet organic café which was on my list of places to visit but unfortunately didn't get there on time before it closed. Well, just a few weeks ago I found myself back in the Junction once again and this time I made sure to stop in.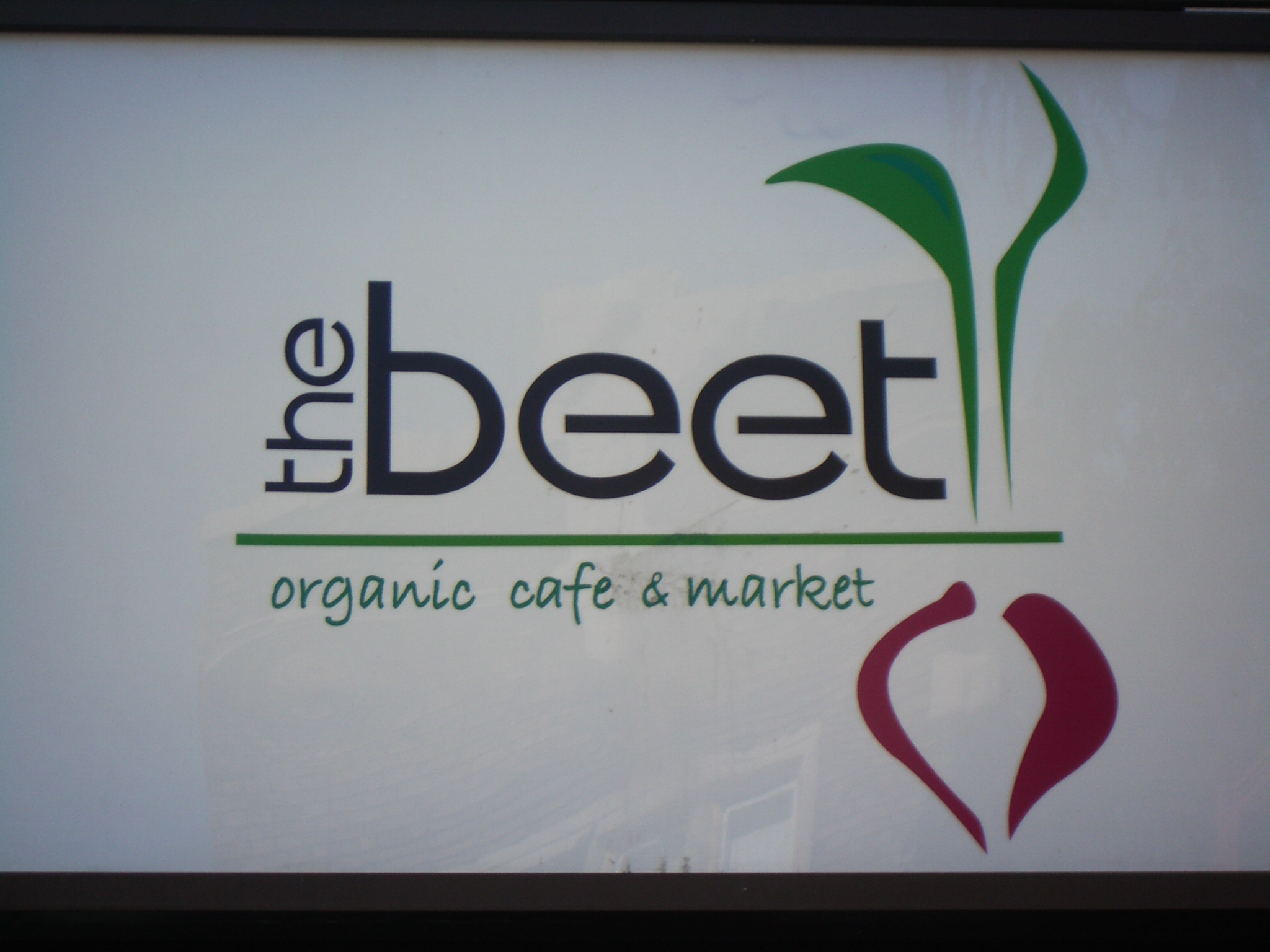 The beet is an organic café that serves up delicious and nutritious food and a whole lot more. Owned by a Registered Nutritionist and Homeopathic Doctor, I must say this café is the real deal when it comes to real food. The menu is completely designed by these two ladies so you can rest assured you are getting only top-notch quality when it comes to optimal nutrition. I had the pleasure of speaking to the lovely Michelle Vella, Registered Nutritionist, who shared with me her vision from a few years back of wanting to open a café that served up the kind of food that she would feel good about putting in her own mouth. Everything that is served up is organic, locally sourced (when available) and Certified Fair Trade if imported. The café even goes one step further offering 100% biodegradable packaging and has an interior design made up of sustainable and recycled materials. It's a truly eco-friendly café! 
The menu varies from breakfast items, sandwiches/wraps and dinner entrées, to fresh squeezed juices and grab-and-go items if you are on the run. Also on the menu – organic wine and beer!  Furthermore there is an assortment of vegan and gluten/wheat-free items to choose from.  Be sure to check out their menu on the website listed below for their daily specials and to see the full array of delicious choices available. Also keep in mind that their menu is ever-evolving with the seasons so that freshness and taste are never compromised. 
When I stopped into the café with a few friends one Saturday afternoon, it was that in-between time when you've already ate lunch but you're not quite ready for dinner yet. We had more or less stopped in for a drink and a little something sweet. I ordered one of their digestive elixirs which intrigued my friends so much that they followed suit. What you get is a shot of  intestinal friendly kombucha in a fresh pressed apple/ginger juice combo. Truly refreshing! Between the 3 of us we sampled the vegan wheat-free chocolate beet cupcake, the gluten-free almond cookie and the vegan kamut ginger cookie. All were delish and satisfied our want for something sweet. I have to say though, I'm looking forward to going back and actually eating a full meal there. I'm thinking dinner.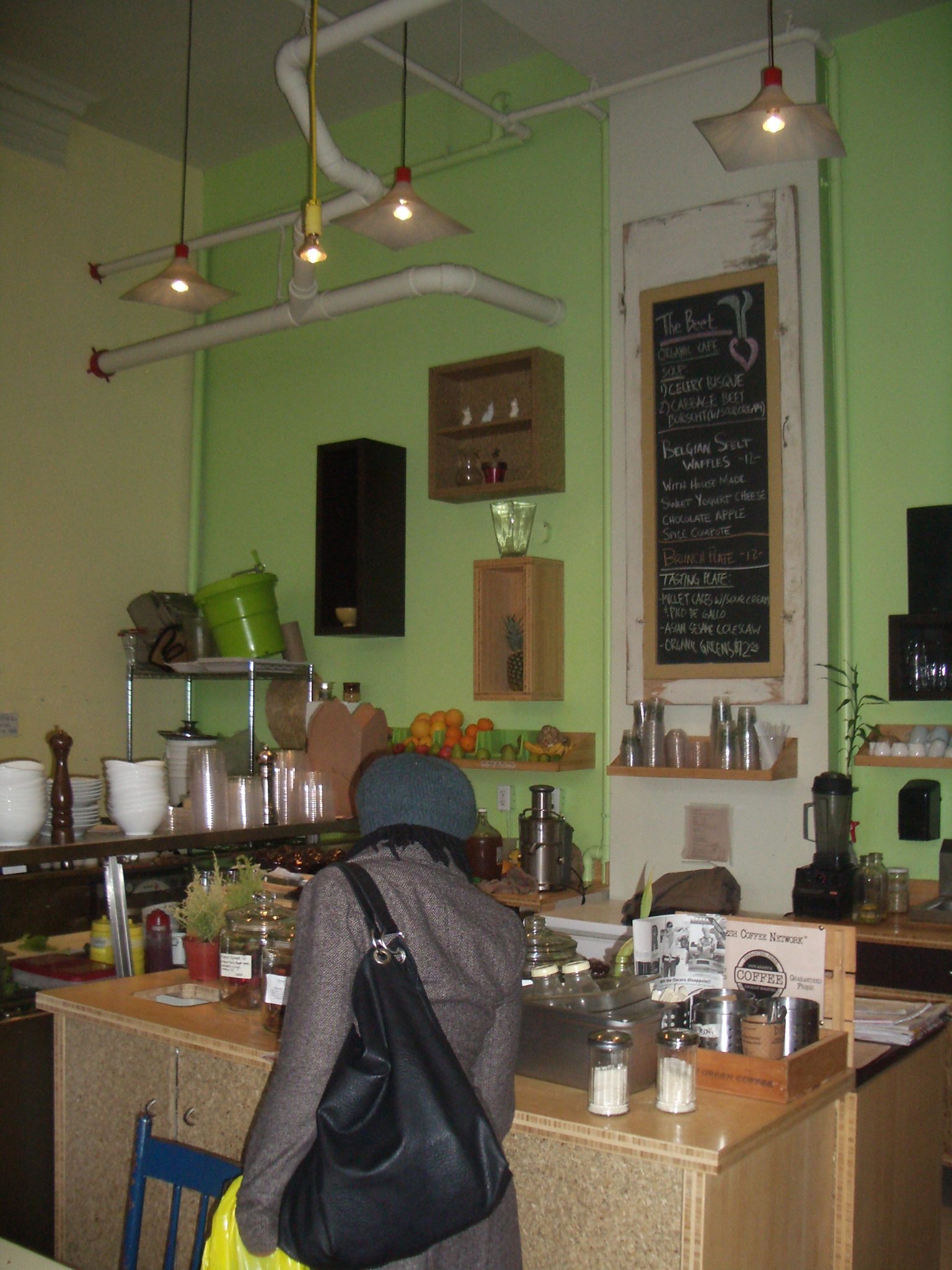 The beet has the kind of warm ambiance and neighbourhood charm that will surely make you feel right at home. And for the superior quality you are getting the prices are right. Because of the location of this still up-and-coming neighborhood, you won't pay the same prices that you would if this café was smack downtown. Rumour has it that they also have a nice patio for soaking up the sunshine when the weather is nice.
Check it out! 
As an aside, I just want to comment that I have no vested interest in reviewing any of the restaurants that I visit other than wanting to spread the word about real food experiences that I enjoy and to give people healthy options when it comes to eating out. If I don't like a place or have a bad experience somewhere, I simply just choose not to write about it. I'll save that for the real food critics! That's not what this site is about. Anyways, just saying… 
___________________________________________________________________ 
Check out the deets on the beet! 
2945 Dundas Street West
Toronto, ON
Sign-up for updates!
As a BONUS, I'll send you a copy of my Hip, Healthy & Holistic Makeover Guide to get you started.