Have you ever been tempted to juice fast your way into an outfit?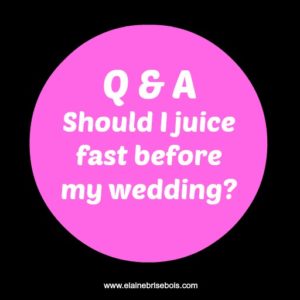 Recently I was asked by a bride-to-be what my thoughts were on doing a juice fast right before a wedding to get into tip-top shape – specifically a 3 to 5 day juice fast leading right up to her wedding day.
Her intention wasn't to drop a bunch of weight but more so to reduce any bloating while also reaping some of the benefits that are often associated with detoxing, like the post-cleanse glow and soaring energy levels.
Since I'm quite open about my love for juicing, I think she was a little surprised to hear that I actually advised against it in this situation.
I decided to put together a little video (just me + my iPhone) explaining the 4 main reasons why I don't think it's a great idea.
Even if you're not getting married, this can apply to other situations where you may be tempted to do a juice fast as a last effort to look your best right before an event. 
Let me know your thoughts in the comments below!
xo Elaine
Sign-up for updates!
As a BONUS, I'll send you a copy of my Hip, Healthy & Holistic Makeover Guide to get you started.