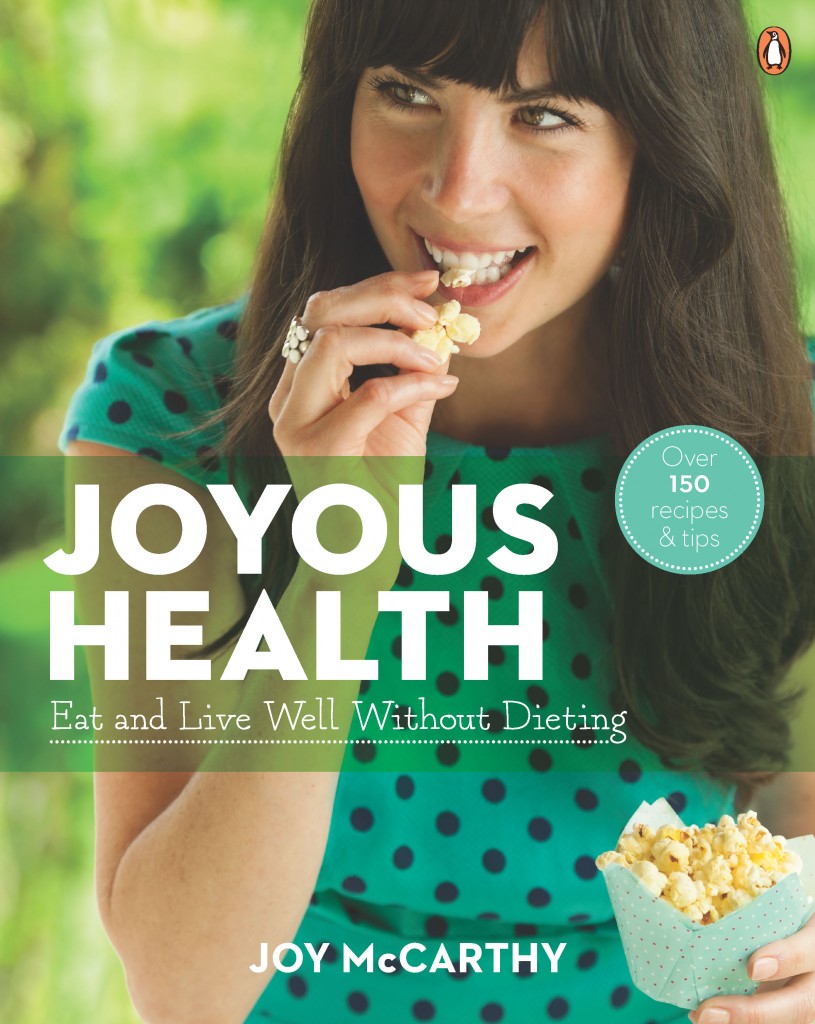 Today I'm so thrilled to be featuring my dear friend Joy McCarthy here on the blog!
If you're not already acquainted with Joy McCarthy, she's the Joy behind the popular blog Joyous Health and one smart and sassy holistic nutritionist with a ton of credit to her name. She also just happened to write a fabulous book that came out earlier this year called Joyous Health: Eat and Live Well Without Dieting. In this beautiful book you'll find simple and practical tips to creating a healthy lifestyle, along with lots of delicious recipes that will soon become fast favorites.
You'll also have the opportunity to win one of two copies here today!
Now just to give you a little background about how I know this lovely lady…
I first met Joy when we were both students at the Institute of Holistic Nutrition here in Toronto, where we became friends. Since then I've had the great opportunity and pleasure of following along with her journey and watching her inspire the world one health tip and recipe at a time, as well as growing her successful business Joyous Health Inc. I even had the special privilege of standing up beside her as her maid of honor this past September when she married the love of her life. Really I couldn't be more proud and inspired by my beautiful friend, and all that she has accomplished in both her business and life.
This past Friday night Joy had me over to her place for dinner so I could put some of the recipes from her book to the test. And who are we kidding? It was a chance for us girls to hang out and have fun in the kitchen, and do what we love to do best – eat delicious food!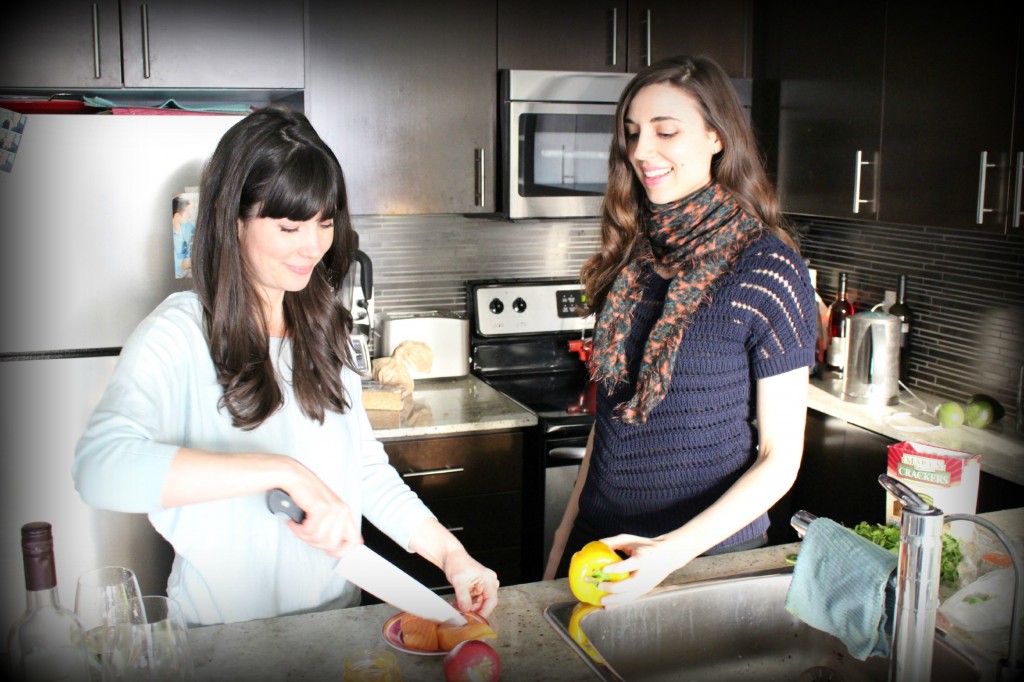 I have to say, what I liked most about the dishes we whipped up (besides how great they tasted), was just how simple they were to prepare. Because if there's one thing I know about making healthy eating a priority, it's that simplicity is key.
On the Dinner Menu
We made Baked Lemon Pepper Salmon with "Cream" Sauce with a side of Walker's Spicy Brussels Sprouts, (both featured in her book). We also roasted up some cauliflower for an added kick of cruciferous veggies!
You'll need to check out her book to get these delicious recipes but I'll tell you that the "cream" sauce comes from tahini (sesame seed paste), and that it takes regular baked salmon to a whole new level of taste and flavour. Also, if you're already a fan of Brussels sprouts (which I am), then you'll love Walker's spicy rendition. In case you're wondering who this Walker fellow is, he's Joy's hubby!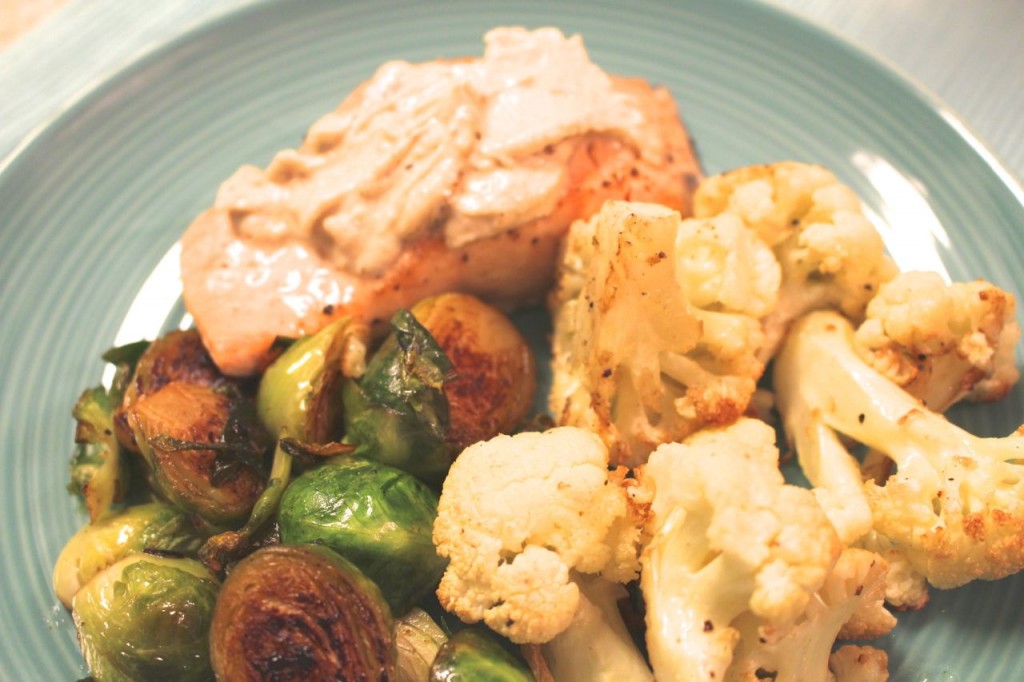 For dessert we had the Chili and Cinnamon Chocolate Bark, and Joy was kind enough to let me share the full recipe here with you straight from her book.
If you're a chocolate lover, make this as soon as possible!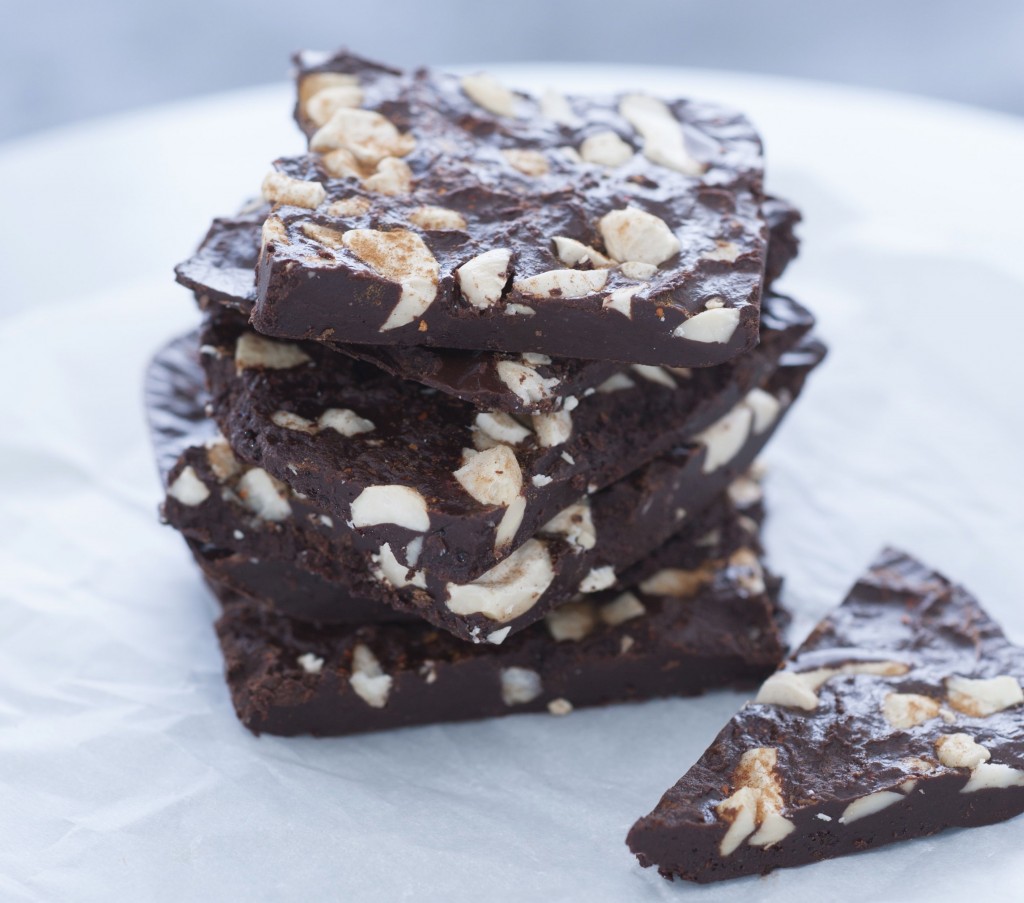 (Photo Credit: Nicholas Collister)
Chili and Cinnamon Chocolate Bark
1/3 cup (75 mL) coconut oil
¾ cup (175 mL) raw cacao powder
¼ cup (60 mL) real maple syrup (add more if you like it sweeter)
1 tbsp (15 mL) cinnamon
1 tsp (5 mL) cayenne pepper
¼ cup (60 mL) raw cashews, coarsely chopped
Instructions
In a small saucepan over low heat, melt coconut oil. Slowly stir in cacao and real maple syrup. When fully combined, stir in cinnamon and cayenne. Remove from heat and let cool for a few minutes. Line a baking sheet with parchment paper. Pour chocolate mixture onto the paper and sprinkle with cashews. Refrigerate for 4 hours. Break into pieces. Store in the fridge for up to 1 week or freeze for a couple of months.
(Recipe Credit: Joyous Health Book)
A few side notes…
If you don't have cashews on-hand you can pretty much use any chopped nut. We swapped the cashews for hazelnuts, and it still turned out great and tasted ah-mazing! Also, the bark was good to go after only about an hour of being in the freezer – just in time for dessert!
Now if you'd like to get your hands on a copy of this book you can do so here if you're in Canada, or if you're in the United States you can pre-order it here, before it comes out May 6th of this year.
Perhaps though you'll be lucky enough to win one of the two copies that I'll be giving away right here, c/o of her publisher Penguin Canada.
Official Contest Rules
(Contest is now closed)
Contest is open to residents of North America only.
To enter, leave a comment below sharing 1 or 2 of your favorite health tips or practices!
Contest closes Tuesday April 1st, 2014 at noon (EST).
2 winners will be chosen at random and announced back here later that same day.
I look forward to reading your responses!
If you haven't already, come join me on my Facebook page where I post more health tips and inspiration, along with updates!
And the winners are…


Congratulations!! Please contact info(at)elainebrisebois.com with your mailing details to claim your prize.
Thank you to everyone who participated and shared their favorite health tips with me!
Sign-up for updates!
As a BONUS, I'll send you a copy of my Hip, Healthy & Holistic Makeover Guide to get you started.