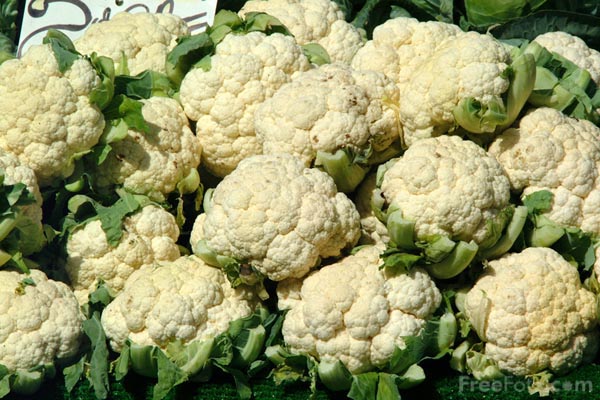 Cauliflower.
Not the most popular of vegetables, and definitely not at the top of most grocery lists. People either seem to like it or they don't. It's never one of the first crudités to get gobbled up on the veggie tray at a party, nor does it often get packed in the school lunch among the carrot and celery sticks.
Strangely enough, when I was a kid it was one of my favourite veggies. And it wasn't because I knew it came from the family of cancer-fighting cruciferous veggies, or that it was rich in Vitamins C & K, Folic Acid, Potassium and phytonutrients such as indole-3-carbinol and quercetin among others. If only I knew then what I know now I may have convinced all my little kiddo friends to reevaluate their feelings about cauliflower and give it the chance it truly deserved.
Although cauliflower can be enjoyed raw, especially when paired with a really delicious dip such as hummus, I find most people are won over by its taste when they try it in one of its many cooked forms.
Here's a classic recipe that is super-duper easy to prepare. It can be eaten in its basic form or taken a step further in a few different directions to create two additional tasty dishes that can be added to your weekly arsenal of recipes!
Garlic Roasted Cauliflower
1 head of cauliflower
1 ½ tbsps of Extra Virgin Olive Oil
2-3 cloves of garlic minced
*Pecorino Romano grated (optional)
(*A hard cheese made from sheep's milk that is often used interchangeably with parmesan)
Instructions
Preheat oven to 375 F
Cut the cauliflower into florets and toss it with the olive oil and minced garlic in a casserole dish.
Place in oven for approx 20 minutes.
Remove from oven and top with grated Pecorino Romano (approx 2 tbsps)
Place back in oven under broiler for 3-5 minutes so cheese melts.
Serve up!
Or…take the recipe one step further and create a delicious and healthier substitute for mashed potatoes (same same but different…and better!!!)
Garlic Roasted Cauliflower Mash
Repeat the same steps as above but place the final product into a blender omitting the Pecorino Romano.
Add ¼ cup liquid of your choice for a creamy texture. For a really creamy texture reminiscent of mashed potatoes I suggest adding 100% pure organic cream, or you can add your own dairy substitute of choice.
Add 1 tbsp of chopped chives or thyme.
Blend all ingredients in a high-speed blender or food processor until it is the consistency of mashed potatoes.
Serve and enjoy!
Or, if you're craving a warming bowl of soup…
Garlic Roasted Cauliflower Soup
Make the original recipe but omit the second step where you top with grated cheese.
Put the final product in the blender (as with the "mash" recipe) with the addition of 3-4 cups of veggie broth (more or less depending on the consistency of soup you desire).
Blend until smooth.
Pour into serving bowls and top with grated Pecorino Romano and/or chopped herbs of choice (both optional).
Here's to cancer-fighting cauliflower in all its delicious forms!
Elaine
Sign-up for updates!
As a BONUS, I'll send you a copy of my Hip, Healthy & Holistic Makeover Guide to get you started.