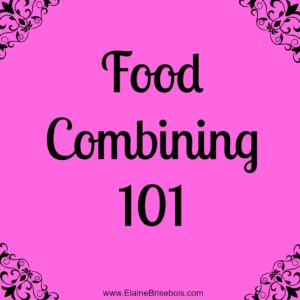 Today I want to talk to you about an often overlooked practice that can dramatically improve your digestion and even help you shed excess weight.
Food combining is one of those things that I've always kind of known about but didn't really put into serious practice until about 4 or 5 years ago. Although I had already been eating pretty healthy for quite some time, integrating food combining into my life elevated my digestion to a whole new level and helped me shed the excess weight that left me feeling a little heavier than I desired.
In a nutshell, food combining is a way of eating that respects the natural biochemistry of the body. Different types of foods require different types of digestive enzymes to break them down, along with varying pH environments (i.e. acid/alkaline). They also have different rates of digestion. Eating foods in easy-to-digest combinations ensures that things move smoothly all the way through without encountering pileups along the way.When digestion is optimized nutrients are assimilated efficiently, waste matter exits the body in a timely fashion, and energy is freed up for other metabolic functions.
A few ill-combined meals here and there isn't going to hurt you too much, but eating difficult-to-digest combinations day-in and day-out over the years will eventually take its toll, manifesting in one symptom or another.
I can attest to this myself because even just after a weekend of miscombined, otherwise healthy meals, I start to feel the effects on both my digestion and energy levels. This is the reason I always naturally gravitate back to proper food combining after getting a bit off track. I know that when I'm mindful of my food combos my digestion runs smoother, my belly is flatter, and I have more energy.
The goal isn't to be a perfect food combiner, but rather to optimize your digestion so you can feel your absolute best.
Below I've listed the main food combining principles. Keep in mind there are always exceptions to the rules, and depending on where you look you'll see that there are many different food combining charts floating around that may differ slightly in their placement of certain foods.
When I work with my private clients I always teach them how to specifically apply the food combining principles to their own life and health goals. I show them which principles will be most helpful in getting them closer to their goals, while also showing them where they can bend the rules a bit while still making progress!
Food Combining Principles
1. Fruit is best eaten alone on an empty stomach and approximately 15-30 minutes before other foods depending on the type of fruit and quantity eaten. Exceptions: raw leafy greens like spinach and lettuce can combine with fruit.
2. Starches (grains and starchy veggies like sweet potatoes and winter squashes), combine with all raw and cooked vegetables. Exceptions: avocados combine well with starches.
3. Animal Proteins (meat, fish, eggs, cheese) combine well with all raw vegetables and cooked, non/low-starch cooked vegetables, and other animal proteins.
4. Nuts & Seeds combine with all raw vegetables, other nuts and seeds, bananas and dried fruit.
5. Legumes & Beans combine best with vegetables but can also be combined with the starch category. Note: Generally legumes & beans contain more starch than protein which is why they combine better with starches, although they do have enough protein to make them a food combining challenge – one of the reasons why many people have a hard time digesting them. Keep in mind, the smaller the legume, the easier it is to digest.
A Few Other Considerations
As you can see, raw vegetables pretty much combine with everything so you can consider them "neutral" – meaning they combine with any category (except fruit).
Avocados are technically a fruit but also combine well with starches. They also combine well with bananas and dried fruit. No nuts and seeds though!
Bananas are also an exception because they combine well with other fresh fruits, dried fruits, and nuts & seeds.
Melons are best eaten alone or ahead of other fruit since they're so water-containing and digest quicker than other fruit.
Condiments/Sweeteners for the most part can be considered "neutral" since they're usually used in such small amounts (i.e. mustard, salsa, tamari, raw honey), but concentrated fats like oils  generally combine better with vegetables and starches, rather than proteins.
Keep in mind these are the general principles. As individuals with unique bodies, certain food combinations may register differently for some people which is why it's important to listen to your own body. For example, if you have a lot of weight to lose or suffer from only minor digestive upsets you may not have to be as nuanced with your combinations to get results. On the other hand, if you have that more subtle weight to lose (i.e. 10-15 pounds) or have more serious digestive issues, then being more diligent with your food combining will likely serve you better.
* Context is also really important when it comes to food combining. There's obviously a huge difference between putting a spread of almond butter on your high-quality sprouted-grain bread (technically not the best combo), and having a chicken sandwich on Wonder bread! Or, putting a few berries in your natural organic yogurt verses eating a bowl of fruit following a plate of pasta. Quantity definitely matters.
* It's also important to keep in mind that eating healthy miscombined meals is always better than eating perfectly combined unhealthy meals.
Want to know what a day in the life of well-combined eating looks like?
There are many possibilities but below I've outlined a few sample meal options to give you some ideas!
Breakfast
Option #1: Smoothie – Avocado, blueberries, kale + coconut water OR Banana, hemp hearts or almond butter, spinach + almond milk
Option # 2:  ½ cup of raspberries (wait at least 15-20 minutes) followed by a 2-3 egg omelette with spinach, mushrooms, and onions
Lunch
Option #1: Quinoa salad topped with fresh vegetables of choice and dressed with lemon juice, EVO + sea salt
Option #2: Spinach salad topped with fresh veggies of choice + a piece of organic, free-range chicken
Snack
Option #1: Vegetable crudités  with olives
Option #2: "Ants on a Log" (celery sticks + almond butter topped with raisins or goji berries)
Dinner
Option #1: Romaine lettuce topped with tomatoes, cucumber, raw corn, black beans and avocado + a baked sweet potato topped with sea salt and organic butter.
Option#2: Arugula salad with roasted beets and goat's cheese + steamed broccoli + a piece of baked wild salmon.
Dessert:  70% or higher dark chocolate
As you can see this way of eating is in no way restrictive! Once you get the hang of food combining, it's actually really simple to create well combined, delicious and satisfying meals that will leave your stomach happy and thanking you.
Here's to optimal digestion!
xo Elaine
Have a food combining question you want to ask me? Leave a comment below and I will do my best to address it!
Struggle with IBS or Digestive Issues?
Get my FREE 5 Day Course!