Welcome to the inaugural posting for Favourite Fridays! As mentioned yesterday, every Friday I will be sharing with you one (or a few) of my personal favourites, in no particular order. Keeping with the theme of the site it will somehow relate to food and/or health. So without further ado..here's the first!
Baked Sweet Potatoes
Topped with organic, unsalted butter and sprinkled with sea salt.
This is comfort food at its best. I often enjoy them with my evening meal, when I'm craving a little comfort after a long and busy day.
These actually top my "favourites" list for both taste and simplicity.
As a bonus, they are chock-full of nutritional benefit.  An amazing source of Vitamin A (in the form of beta-carotene) and a good source of Vitamin B6, C, manganese, potassium, iron, copper and dietary fibre (mainly in the skin).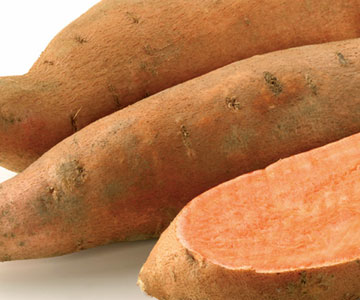 And they are super simple to prepare…
Just give them a good scrub and pierce with a fork (so the steam can escape) and put them in the oven (whole) at 400 F for 30-45 minutes and bake until soft. You can test to see if they are done by pushing down on the potato with a fork. It should feel squishy.
Remove from the oven, slice down the middle, top with a small pat of organic unsalted butter and sprinkle with sea salt. I sometimes even sprinkle with chopped raw garlic if the mood strikes.
I like to start by eating the insides first and saving the skin for last. Yes, that's right! Make sure you eat the skin. This is where much of the nutrients and dietary fibre are at!
There you have it.
Go have yourself some comfort food. But make it in the form of a baked sweet potato – not a big bowl of ice cream!
Yours truly,
Elaine
Sign-up for updates!
As a BONUS, I'll send you a copy of my Hip, Healthy & Holistic Makeover Guide to get you started.