What a beautiful weekend it was! Hope you all had the opportunity to soak up some of the lovely sunshine and breathe in the fresh (well, as fresh as you can get living in the city) crisp air. I have to say it was the perfect weekend for putting on the walking shoes and spending the afternoon out and about perusing the city streets.
I love how a little sunny 8 degree Celsius weather in March brings even the most homebound Canadian out of hibernation.
This kind of weather wets our palate and gives us a little taste of what lies ahead. Spring! However, before you get too excited and start buying all those imported strawberries that are cropping up at many grocers, let's just remember that local and in-season is still our best option when it comes to fresh flavour. Furthermore, it's best to buy organic when you can. Read my post here on when you should buy organic and when you can be a bit more frugal.
So here we are at the beginning of March and you may be wondering… what is available locally right now? Well the answer to that is still the same (in many cases) as it was back in autumn and the dead of winter. Root vegetables!! It's inevitably difficult to avoid spotting these guys occupying much of the shelf space at your local grocer this time of year. On a sidenote, just a friendly reminder that I'm writing from Toronto, Ontario so depending on where you are living this may not apply to you.
For those of you though who have an ample supply of root veggies at your finger tips, here's an easy peasy recipe that you can put in your back pocket and pull out time and time again. It's the kind of dish that is sure to be a crowd pleaser when entertaining guests.
This recipe isn't anything new, but in case you haven't already jumped on the root veggie train, here you go!
Recipe – Roasted Root Vegetables with Rosemary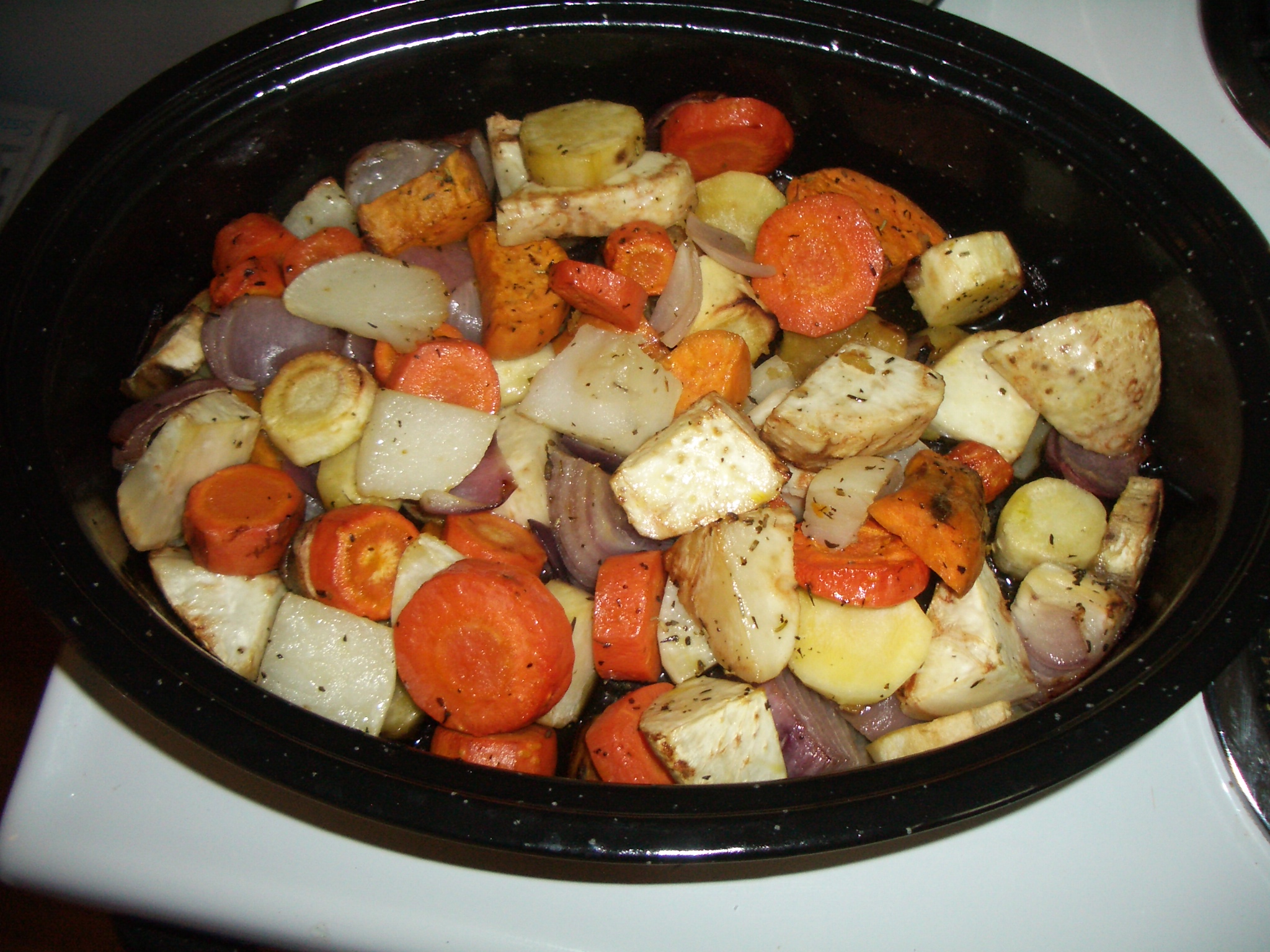 Ingredients
3 cups of carrots
2 cups of parsnips
1 large turnip
1 celeriac root
2 sweet potatoes
1 red onion
10 cloves of garlic peeled
1/3 cup of olive oil
Sea salt (to taste)
Fresh or dried rosemary
Note: In most cases you should be able to get all of these ingredients locally, however garlic may be a bit harder to come by in March. In which case you'll have to opt for imported. Also – feel free to use whatever root veggies your little heart desires. You may opt to use larger amounts of one root and/or omit others. Make it your own!
Instructions
Pre-heat oven to 400 degrees.
Peel and wash all root vegetables and cut into chunks. The key is to have similar size chunks so that they cook evenly and at the same rate. Onions are the exception, and can be cut into quartered or halved (larger) chunks because they cook faster than the other vegetables.
Place all cut root veggies into a roasting pan and add the whole cloves of garlic.
Drizzle with olive oil and sprinkle with chopped fresh (or dried) rosemary and sea salt.
Make sure all root veggies are covered with oil.
Place in oven uncovered and leave approx 45 -60 minutes until veggies are softened and slightly browned on the edges.
The dry heat of the oven caramelizes the sugars of the root vegetables so that you are left with a deliciously sweet and flavourful dish.  Even those individuals who don't like vegetables usually love this one.
Enjoy!
Sign-up for updates!
As a BONUS, I'll send you a copy of my Hip, Healthy & Holistic Makeover Guide to get you started.