Happy Valentine's Day!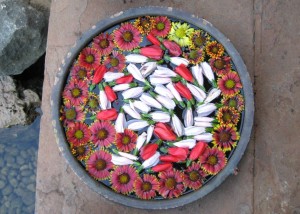 Since this day is all about the L-word, who better to treat than yourself?
I love going to the spa as much as the next girl, but let's face it, it can be pretty expensive to go on a regular basis.
That's why below I've listed 6 easy steps to treat yourself to the ultimate spa-experience from the comfort of your own home – whether that be today or any other day of the year. Just to be clear, I of course don't think you need Valentine's Day as an excuse to treat yourself!
Caring for your body is the ultimate expression of self-love, but like most things it's a choice. You can always choose to eat healthy and nourishing food, choose to think positive and uplifting thoughts, and choose natural beauty products over the ones filled with toxins. You can also choose to relax and unwind after a long day now and then, rather than fill your evenings with endless social commitments.
During the winter months, I have to say this is one of my favorite Friday night pastimes – and a great way to end a busy work week and set the tone for the rest of the weekend!
So without further ado…
1. Disconnect. Shut down the computer, put away your phone, and silence all of those Facebook and Twitter alerts!
2. Set the mood. Dim the lights, light some natural candles made from soy or beeswax, put on some mellow tunes if you desire, or revel in the sound of silence.
3. Body Brush. This is a great tool for boosting circulation, stimulating your lymphatic system, sloughing off dead skin cells, and supporting detoxification. You want to make sure you're using a natural bristle brush – I personally love my merben brush found in many health shops. If you're new to dry-skin body brushing, the idea is to start at your feet and work your way up the length of your body with gentle strokes, always towards the heart and lymphatic drainage centres: back of knees, groin and armpits. Be sure to avoid sensitive areas (i.e. breasts and face) unless you're using an ultra-soft brush. I'm thinking I might dedicate a full-post to this practice in the future so stay-tuned!
4. Luxuriate. After you've exfoliated your body, it's time to luxuriate in the bath and let your worries melt away – and then down the drain with the bath water! For a truly relaxing soak I suggest adding some essential oils such as lavender or rose, and/or some bath salts to help draw out impurities from the skin and soothe aching muscles.
5. Moisturize. After you've towel-dried your body, slather it with a high-quality, pure oil. My oil of choice – coconut or argan oil – although I do like to switch things up now and then and experiment with others. This practice alone in and of itself is such a great way to honor your body.
6. Chill Out. Now that you're all relaxed and your skin is feeling soft and supple, it's time to get into your coziest. You're in for the night! How about snuggling up on the couch with a good book? If you'd like some reading material on the topic of LOVE, here are two of my faves:The Mastery of Love by Don Miguel Ruiz and The Invitation by Oriah.
And would the night be complete without a little sweet indulgence?
Try this recipe from my Hip, Healthy & Holistic Makeover Guide:
Guilt-Free Coconut Milk Hot Chocolate


:: Heat 1 cup of unsweetened coconut milk on top of the stove (you can also use almond, hemp or rice milk if you prefer).
:: Once you see bubbles forming remove from heat and whisk in 1 heaping tbsp of raw cacao powder (be sure not to burn the milk).
:: Sweeten to taste with your natural sweetener of choice. Use 4-5 drops of stevia if you're looking to avoid sugar. For a more indulgent treat use 1 heaping tbsp of coconut palm sugar. Yum!
In the comments below, let me know what your favorite self-care practices are, and how you like to luxuriate on nights in.
xo Elaine
Sign-up for updates!
As a BONUS, I'll send you a copy of my Hip, Healthy & Holistic Makeover Guide to get you started.