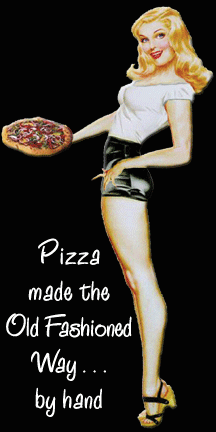 This past Friday night was pizza night over here! However, the pizza we had was nothing like I've ever had before. Sure, I've had gluten-free pizzas made from various different flours but this one was made from cauliflower – not grain. A true vegetable-centric pizza at its best!
And better yet, it was a properly combined pizza given there was no heavy starch (i.e. grain) + protein combo that usually makes pizza so heavy and oftentimes difficult to digest.
But, although I make a pretty solid effort to properly combine my food most of the time, a good thin-crust pizza, especially when enjoyed out at my favorite pizza spot Pizzeria Libretto, is something I'm willing to make an exception for! I love their pizza – and a Pizza Marinara (i.e. sauce with no cheese) just doesn't cut it.
Here's the pizza that we made on Friday night. And let me just say right out of the gate that it turned out deliciously and tasted like real pizza! Even my friend Andrea, who let's just say isn't as in love with her veggies as myself, still finished every last bite on her plate and was pleasantly surprised by the turn-out.
The following recipe made one large round pizza cut into 4 pieces. We doubled the recipe using the whole head of cauliflower to make two pizzas.
Cauliflower Pizza Crust with Goat's Mozzarella + Baby Spinach
Crust:
1/2 large head of cauliflower

1 egg (beaten)

1/2 cup of goat's mozzarella or 4oz of soft chevre

1 tsp of basil or oregano (or combo of both)
1/4 tsp of sea salt
1-2 cloves of garlic chopped

Optional: 1 tsp of freshly grated Parmigiano-Reggiano or Pecorino Romano
Toppings:
1/2 cup of marinara sauce
2 cups of fresh baby spinach
6-8 grape tomatoes halved
1/2 cup of goat's mozzarella
Instructions:
There are a few different ways you can prepare the crust depending on whether you have a food-processor or not. We didn't have access to one on Friday night since we weren't cooking at my place so I'll show you how we made it. It was still super simple.
Preheat oven to 400 degrees F.
 Steam 1/2 a head of cauliflower in one whole uniform piece for about 5-6 minutes. I steamed both halves at once as we made two pizzas. The key is to only steam it until it's slightly cooked through – as in not soft and mushy – because you'll need to be able to pick it up to grate it.
Set aside cauliflower (take off lid) and let it cool for approx 5 minutes. Once it's cool enough for you to touch, grab a paper towel or clean dish cloth and blot the cauliflower to absorb as much of the moisture as possible.
Grate the cauliflower into a bowl so that it looks almost "rice" like. If you're using a food-processor it's also key that you don't over-process it and end up with a puree.
Add the spices, sea salt, fresh garlic, cheese and beaten egg and combine well. Don't be afraid to roll up your sleeves and get you hands dirty. Just ensure they're clean first!
Press mixture into a greased pizza pan or baking sheet lined with parchment paper. We were lucky enough to have a pizza stone at our disposal so that's a great option too if you have it.
Bake for 15-20 minutes or until golden brown.
Remove from oven and spread with your favorite pasta sauce. I used a red wine marinara sauce. Top with baby spinach and tomato halves and the additional goat's mozzarella. Place it back in the oven under the broiler for approx. 5 minutes so that the cheese melts and the spinach wilts. Keep a close eye on it so that the edges don't burn.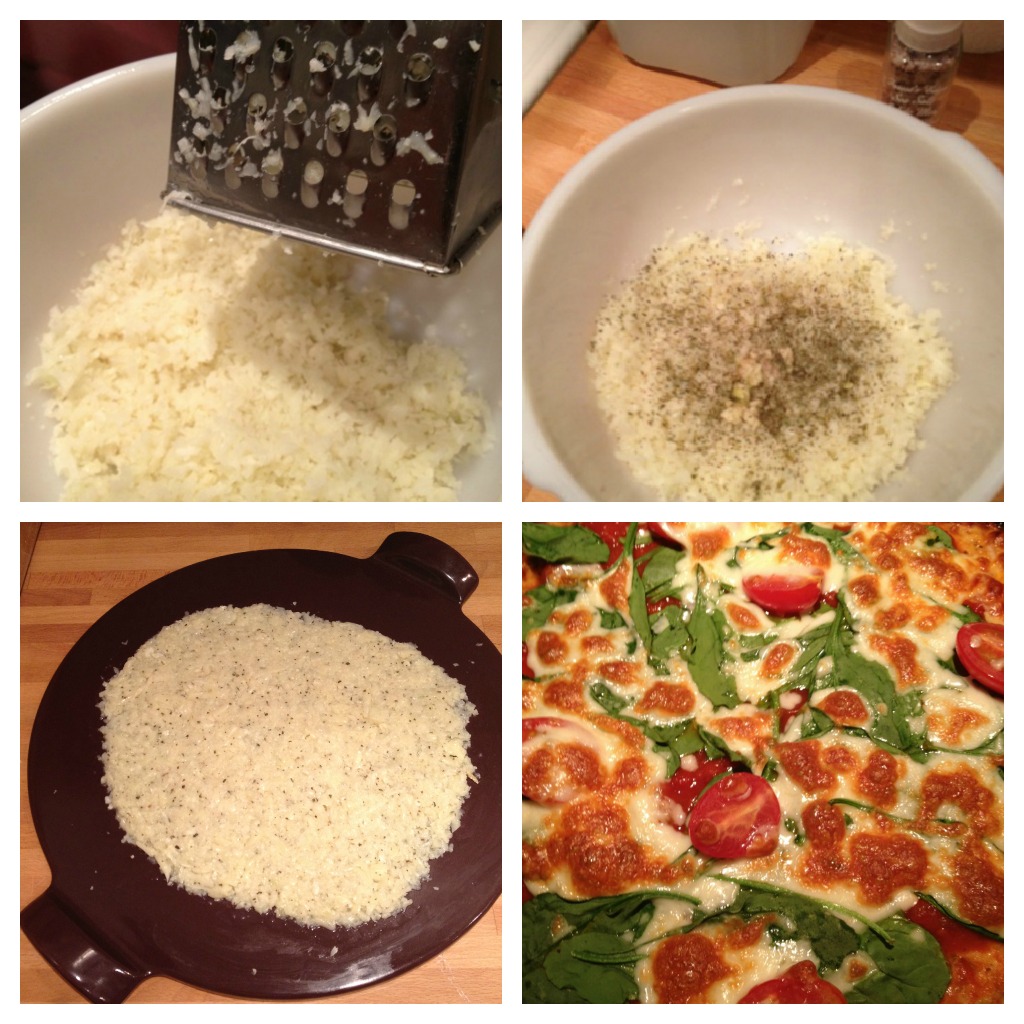 Additional Notes:
I made two pizzas using the above recipe and although they both tasted delicious I have to say that one of them turned out a little bit better than the other in terms of being able to slice into it and pick it up without having to use a knife and fork. The one left under the broiler just a little bit longer turned out better.
Another preparation option is to grate the cauliflower raw (or use a food-processor) and then steam the already grated cauliflower. You would need to follow this by thoroughly draining and squeezing out the excess water via the dish-cloth method such as how Megan demonstrates over at the Detoxinista.
Also, depending on what veggie toppings you decide to use you may have to saute them up ahead of time to ensure they are cooked through before putting them under the broiler. You must also pre-cook any meat you decide to use.
Despite all the aforementioned steps this recipe is actually really quite simple, but I also like the idea of making larger batches and freezing ahead of time as Megan mentioned in her post.
Now that I have this recipe in my back-pocket I can definitely say I'll be enjoying more pizza nights at home and experimenting with other variations.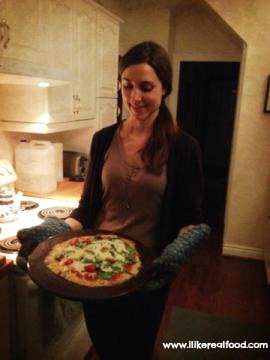 Here's to guilt-free pizza!
Elaine
Sign-up for updates!
As a BONUS, I'll send you a copy of my Hip, Healthy & Holistic Makeover Guide to get you started.