I honestly meant to get this post out yesterday but it didn't quite happen.
In any case, hope you all had a fantastic weekend! I sure did:)
Here's a little preview of what I got up to over here.
Saturday Morning
Fun at Evergreen Brickworks Farmers' Market with Jenn & Lacie-Lu (Jenn's pooch).
Purchases made: Sunchokes from Vicki's Veggies, Goat's Milk Cheddar from Montforte Dairy & Arugula from some farm which I cannot remember the name (although the people working the booth were really quite kind).
Sunchokes (aka Jerusalem Artichokes) were a first-time purchase for me. The guy manning the booth told me they were similar in texture to potatoes, and after doing my own research I noted that they aren't even actually artichokes.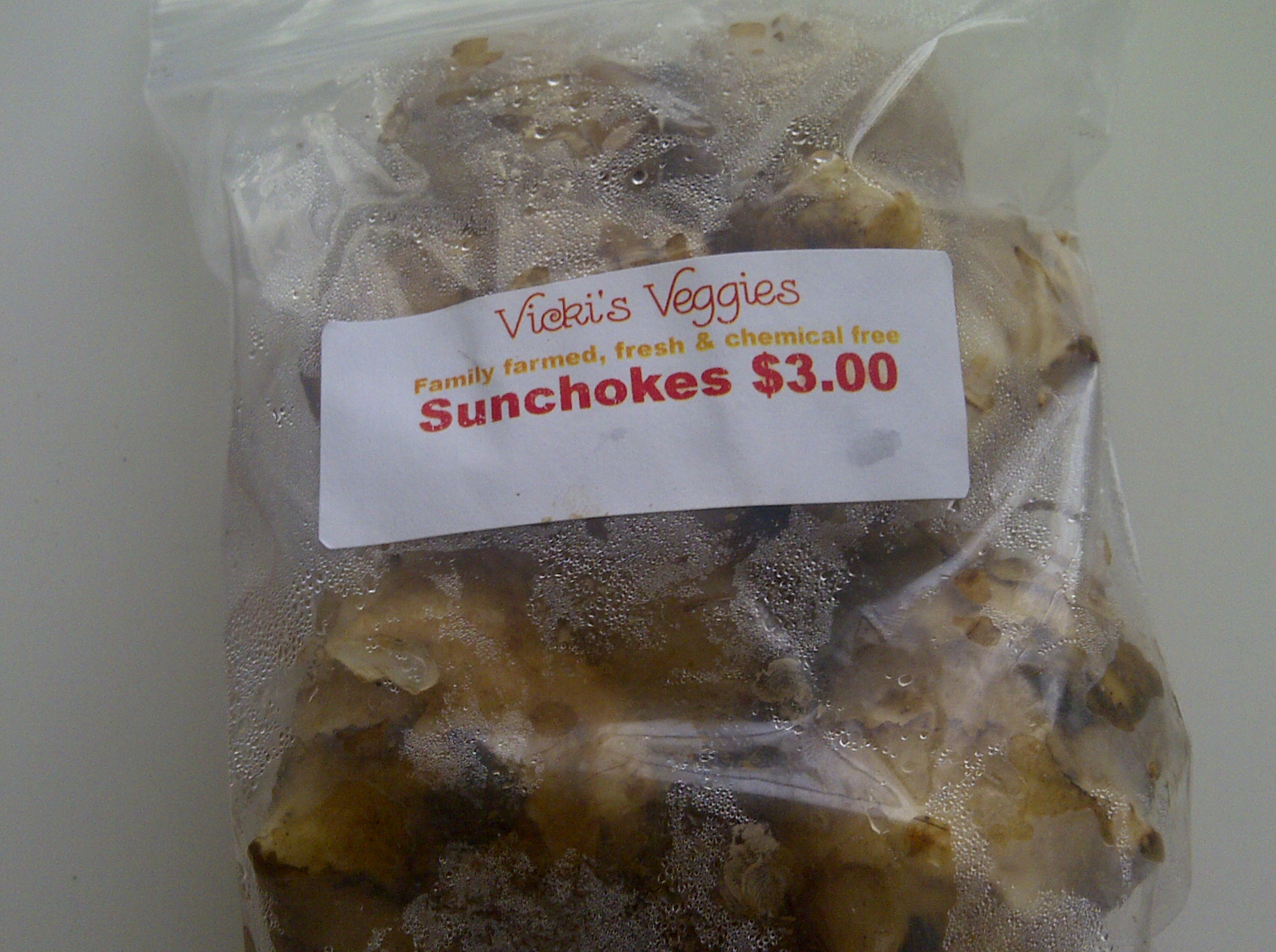 You can see what I conjured up with these little guys further below.
Apparently the market moves indoors next weekend for the cooler months ahead, so I'm happy we were able to make it out one last time while still outdoors. It was quite the beautiful day considering we're nearing the end of November!
And one of yours truly sporting a big bag of Arugula…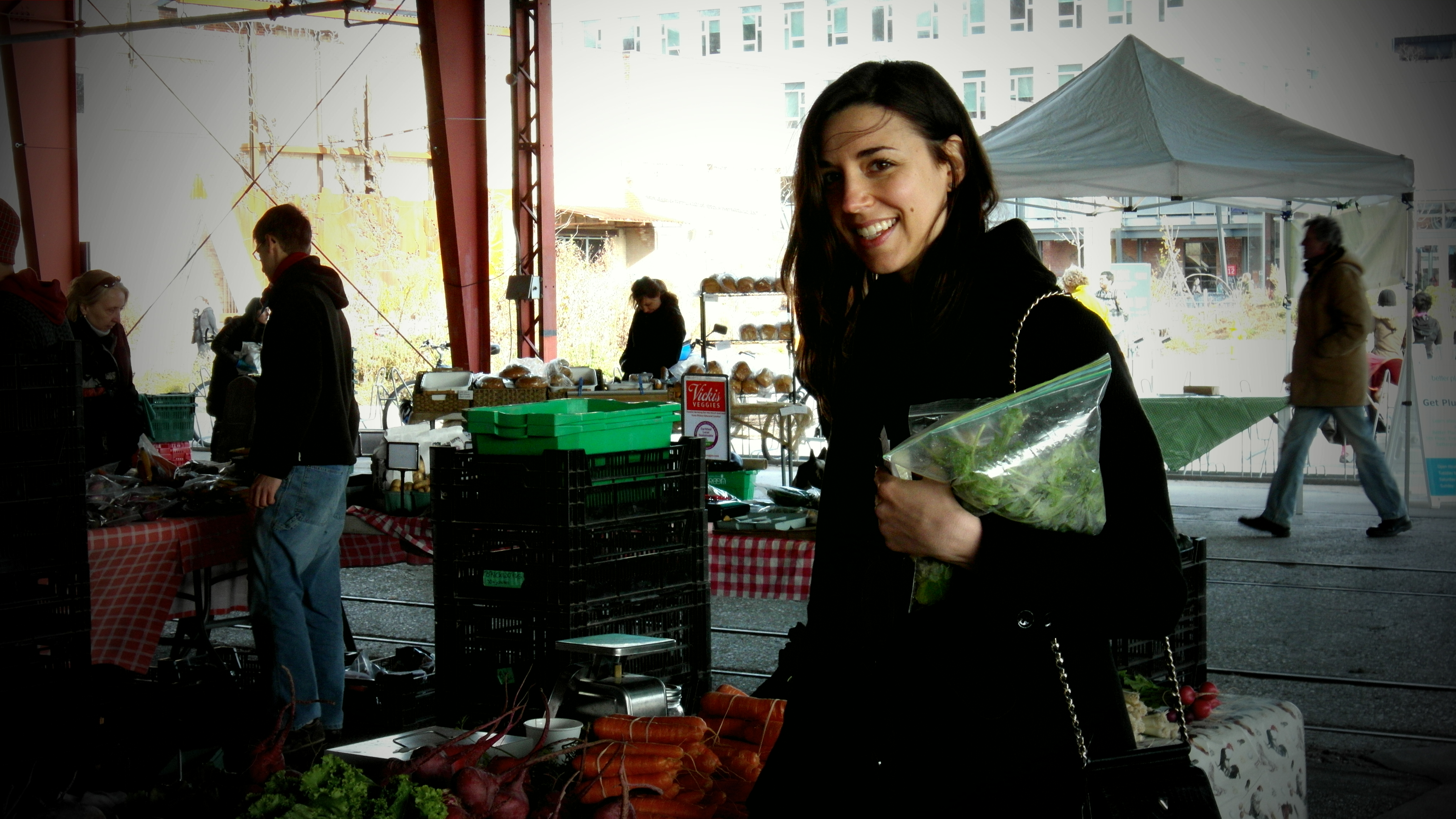 Next (after throwing our goods in the car) we hit up the beautiful trails behind the market grounds so Lacie could get a little off-leash exercise while Jenn and I enjoyed the fresh autumn air and scenic surroundings.
Once home from the market it was time to delve into my market goods. Lunch was a giant Arugula Salad topped with grated goat's milk cheddar. Sorry – no pic.
As for the Sunchokes – check out what I had for Sunday night dinner.
Garlic-Roasted Sunchokes – Recipe
Give your sunchokes a good wash then slice them into ½ inch thick pieces. Toss them in a little EVO, sea salt and minced garlic (1 clove will do) and place them in a baking dish.
Place in the oven for about 30 minutes at 350 degrees.
Voila!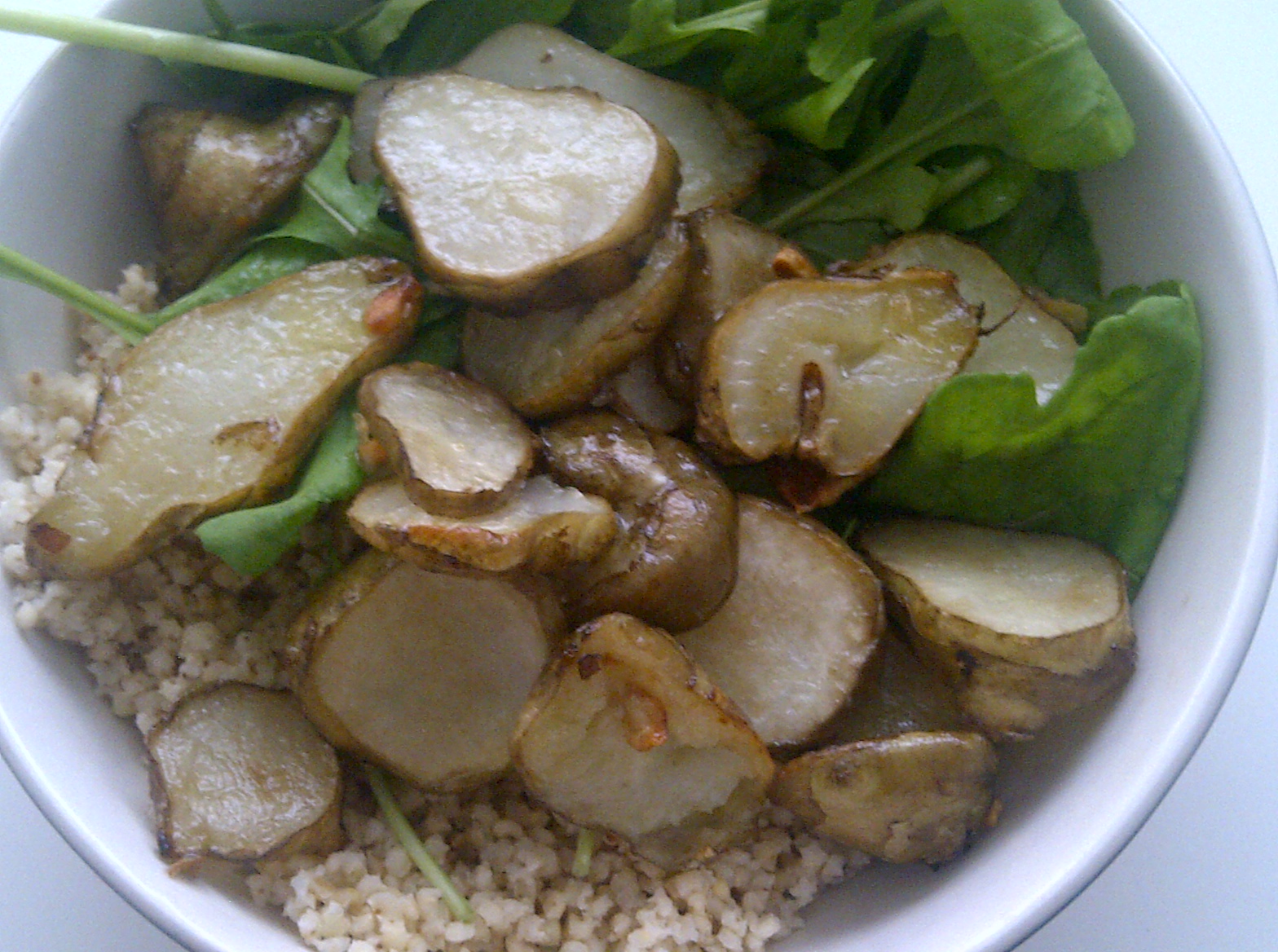 I served them over a bed of millet and arugula. The taste did resemble an artichoke, although the texture was more like a potato (sort of) as the market-man informed me.
Hope I did Vicki proud;)
And last of all…
Saturday evening my good friend was throwing a Housewarming Party. I wanted to bring something delicious to share so I whipped up these little treats below. Sooo delicious and way better than Reese's Peanut Buttercups! In my opinion anyways.
Hazelnut Butter love Cups – Recipe
*makes approx 45+ bite-size cups
You'll likely want to cut the below recipe in half, unless you're bringing them to a party or trust yourself with having that many in your fridge! I made a few adult-sized cups as well (as you can see pictured above on the left).
Also note, the ones pictured above look a little bit goopy, but if you actually leave them in the freezer for a while the hazelnut butter hardens and you end up with a beautifully uniform buttercup – just like Reese's! Either way though they still taste great.
______________________
Ingredients
2 x bars of dark chocolate (70% cocoa content or higher)
Hazelnut butter – 4 heaping tablespoons (or any natural nut butter of choice)
Pinch of sea (*the right ratio of sea salt to hazelnut butter is key – see instructions below)
Instructions: In a small saucepan, melt one of the bars over low heat until it's liquid in consistency. Remove from heat and pour into bite-size paper baking cups lined on a baking sheet or tray. Pour chocolate into each cup filling just below half way.
Place baking sheet in the freezer for about 10 minutes so the chocolate sets.
In a separate bowl mix the hazelnut butter with a dash of sea salt. Stir the mixture well so it's creamy and smooth in consistency. If your nut butter has been in the fridge for a while or you're near the bottom of the jar, you may want to add a touch of coconut oil to facilitate mixing. You'll want to taste the mixture and then decide if you need more sea salt or not. While you're doing this melt the second bar of chocolate. Remember to keep the temperature low so it doesn't burn!
Remove "cups" from the freezer and add a small dollop of hazelnut butter onto the centre of each. You may need to spread it a little bit with a spoon.
Next, pour the remaining melted chocolate over each cup and fill to the top.
Pop back in freezer (or fridge) and let the chocolate set. It only takes about 10-15 minutes in the freezer and a little bit longer in the fridge.
Keep them in the freezer or fridge until they are ready to serve.
Next, watch these little decadent treats fly off the plate!
With the holidays just around the corner, these would make the perfect treat for all your holiday party/gathering needs. Just swap the white baking cups for the holiday-themed ones!
Guaranteed not to disappoint!
xo Elaine
Sign-up for updates!
As a BONUS, I'll send you a copy of my Hip, Healthy & Holistic Makeover Guide to get you started.