I've always had a love for the avocado.  Lately though, I've been gobbling them down as if they were going out of style. Over the last few weeks or so, it's safe to say that I've eaten avocado everyday in some form or another.  I can't get enough of them!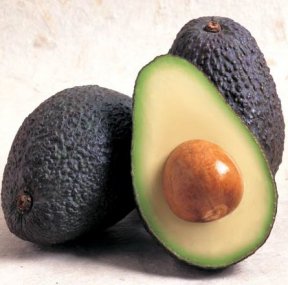 Avocados are the perfect complement to almost any dish or a satisfying snack eaten all on their own. Best of all though, they are delicious and packed full of health-promoting nutrients.  It's no wonder that every nutritionist raves about them.
And for great reason.
Avocados are a good source of potassium, B vitamins (particularly folic acid), Vitamins C, E, and K, fibre and healthy fats. They also contain more protein than any other fruit (about 5 grams) and are rich in carotenoids, particularly lutein which helps to protect against eye disease. Furthermore, avocados are rich in beta-sitosterol, a natural substance shown to significantly reduce blood cholesterol levels.
With all these nutrients, it's a shame that some people actually avoid them because they believe the high fat content makes them an unhealthy choice. This is a misconception. Most of the fat comes from monounsaturated fat in the form of oleic acid, like that found in olives. This type of fat is actually found to be good for your heart by lowering total cholesterol levels and improving HDL and LDL ratios. And remember, every one of our cells need healthy fat for metabolic processes that happen inside our bodies each second of everyday. That includes the burning of fat! As an added bonus, these healthy fats are also great for keeping hair shiny and skin smooth and supple.  
How do you eat them?
I'm sure one of the first things that come to mind when people think about eating avocados is the ever so famous guacamole. And while I do enjoy this myself from time to time, below I've listed the three most common ways I include avocados in my diet.
1) On top of salads. Did you know that avocados actually increase the absorption of carotenoids in vegetables when eaten at the same time? A study published in the March 2005 issue of the Journal of Nutrition proved this to be true. Adding avocado to salad increased absorption of alpha-carotene, beta-carotene and lutein 7.2, 15.3, and 5.1 times higher, respectively, than the average amount of these nutrients absorbed when avocado-less salad was eaten.
2) With rice-dishes. I'm a big fan of the rice bowl. It's like eating a salad but with rice instead of lettuce. Start with rice as your base and then add all the toppings you would normally add to your salad. For instance, this below recipe is something that made an appearance in my lunch twice last week.
Elaine's Rice Bowl with Tahini dressing
Rice Bowl
½ cup of brown rice
½ an avocado sliced
¼ cup of raw sunflower seeds
½ cup of fennel chopped
Handful of parsley (or cilantro) chopped
Combine all ingredients in a bowl.
Tahini dressing
Mix together: ¼ cup of lemon juice, 1 Tbsp of olive oil, 1 Tbsp of Tahini and a pinch of sea salt.
Drizzle over rice bowl and enjoy!
3) All by themselves. Give me half an avocado and a spoon and I'm one happy girl. A little drizzle of my Acropolis balsamic vinegar and I'm good to go! Sometimes I'll even fill the little hole in the middle with raw sunflower seeds for some added sustenance.
Another, more creative way is to blend them into smoothies. Adding half an avocado to a smoothie will give it the same creamy consistency as adding a banana. If you have a picky little eater at home, this is a great way to "sneak" in some added nutrition without compromising on taste.
There you have it!
What's your favourite avocado recipe? I would love to hear from you!
Sign-up for updates!
As a BONUS, I'll send you a copy of my Hip, Healthy & Holistic Makeover Guide to get you started.