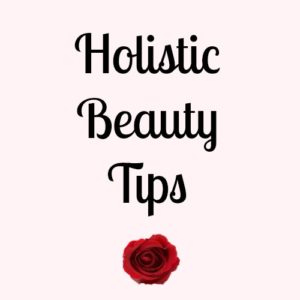 I often get questions about my skincare regime and what products I like to use, so today I thought I would shed some light on the subject and let you in on my skincare secrets!
Our faces are like magic mirrors reflecting the inner workings of our bodies, and conditions like acne, premature wrinkles, inflammation, and other skin-related conditions are all indications of something going on at a much deeper level. When our bodies are clean-celled and functioning optimally on the inside, it's only natural for healthy and radiant skin to surface on the outside.
It can be really tempting to search for a miracle cream or lotion that will fix your skin problems if you're feeling desperate, but unfortunately many of these same products are laden with toxic chemicals that only poison the bloodstream and never actually address the root cause. Keep in mind that everything you slather on your skin is absorbed into your body, so this is why it's really important to opt for clean, non-toxic skincare alternatives.
Before I get into my healthy skin tips + skincare routine, I just want to preface this by saying that although I'm a big proponent of non-toxic beauty and clean skincare products, I actually attribute the health and look of my skin to my diet and lifestyle (and of course genetics plays a role too). I just don't want you to be fooled into thinking that expensive creams and lotions will ever correct an underlying issue or internal toxicity.
So with that said…
Here are my top 5 tips for naturally radiant skin, followed by my personal skincare routine!
1. Hydrate from the inside out. This goes beyond aiming for 6-8 glasses of water per day – you actually want to have a water-rich, hydrating DIET. Build your meals around – you guessed it – vegetables! Opt for more raw food over cooked, especially in the warmer weather. Think water-rich salads, vegetables, juicy ripe fruit, smoothies and fresh vegetable juices. Pure water should still be your go-to beverage and the first thing you drink upon waking in the morning, but feel free to jazz it up with lemons and limes and/or fresh herbs. Lately I've been enjoying cucumber and mint water – delicious! Staying hydrated also supports detoxification and helps to keep things moving smoothly all the way through, if you know what I mean. Congestion and stagnancy on the inside will only manifest as skin distress on the outside.
2. Breathe + Sweat.  Maximize oxygen flow to your cells and increase your life force by moving your body each and every day. Getting physical stimulates the lymphatic system and promotes the release of toxins through the skin (our largest detox organ) when we sweat. Deep breathing in the open fresh air is always preferred to the stale, enclosed air at the gym, so when you have the opportunity to take your workout outdoors go for it! I know that whenever I go for a nice long walk outside in the fresh air I can't help but notice that my skin almost always looks more refreshed and rejuvenated afterwards.
3. Eat Healthy Fats. This is internal lube for your skin! Every cell membrane in your body is made up of the fats you ingest so be sure to eat only the best quality ones. Think fatty-fish like salmon and mackerel, raw nuts and seeds, coconuts and the oil and butter made from them, olives, and of course the beloved avocado.  Avoid fried and damaged fats. Even the best quality oils can wreak havoc if they're rancid or heated – which includes most vegetable oils, including those found in packaged foods.
4. Improve Digestion. If your digestion is out of whack you won't be absorbing all the wonderful nutrients needed for beautiful skin, such as Vitamins A, C, E, selenium, zinc, and those healthy fats mentioned above. I know that this is a giant topic and one that encompasses many different elements. Read this list of 10 Ways to Improve Your Digestion, or for more in-depth reading on how to improve gut health check out this post.
5. Be a Sleeping Beauty. Aim for 8 hours of uninterrupted sleep per night. Your body needs this precious time for cellular repair and regeneration. Your body can probably contend with a few late nights if you're doing everything else right, but if you are constantly skimping on sleep this is a great way to accelerate the aging process. I know if I have too late a night or one too many glasses of vino the night before, I always see the telltale signs on my face the next morning. Stress also plays a big role and can manifest in fine lines and wrinkles. Take some time to relax each day, whether it's a yoga class, a rejuvenating walk outside in the fresh air, or a guided meditation. Whatever allows you to stay calm, and carry on!
There you have it – my top 5 tips for naturally radiant skin!
Now as promised, here's my skincare routine. It's actually super basic, but it changes a bit depending on the season.
My Skincare Routine
Morning :
First I wash my face with water. Since my face is already clean from the night before I don't feel the need to wash it again, as over-washing can strip the skin of its natural oils and leave it dry. This was also a tip from my esthetician as well. If I happen to wake up feeling a little oilier than usual I'll just wash my face with a gentle cleanser, as mentioned below.
Next I apply a moisturizing oil. I really love oils because I find them so nourishing, and I've been experimenting with a few different ones. Right now I'm using Skin Essence Soothe Moisturizer.
Before Bed:
First I wash my face with a gentle cleanser – again I'm always experimenting with different products but I really love the sensitive skin cleansing milk by Pure + Simple.
My eye makeup remover of choice (when needed) is pure coconut oil. I find this works really well!
Next I follow-up with the same oil in my morning routine. In the wintertime, when my skin tends to get a little dryer I sometimes follow that with a richer moisturizer such as one of the Martina Gebhardt facial creams which you can buy at Pure + Simple here in Toronto.
That's it! Pretty basic, right?
I also try to get regular facials when I can. My favourite is the Super Hydrating Facial from Pure + Simple. If you visit the Yonge and Eglinton location ask for Vera or Lillian!
In terms of body care, I try to exfoliate with a dry skin brush a few times per week before I hop into the shower. Next I follow this up by moisturizing my body with coconut oil – about the only body moisturizer I use these days.
In the comments below, let me know your favourite holistic beauty tips and natural skincare brands!
Here's to radiant and beautiful skin!
xo Elaine
Sign-up for updates!
As a BONUS, I'll send you a copy of my Hip, Healthy & Holistic Makeover Guide to get you started.