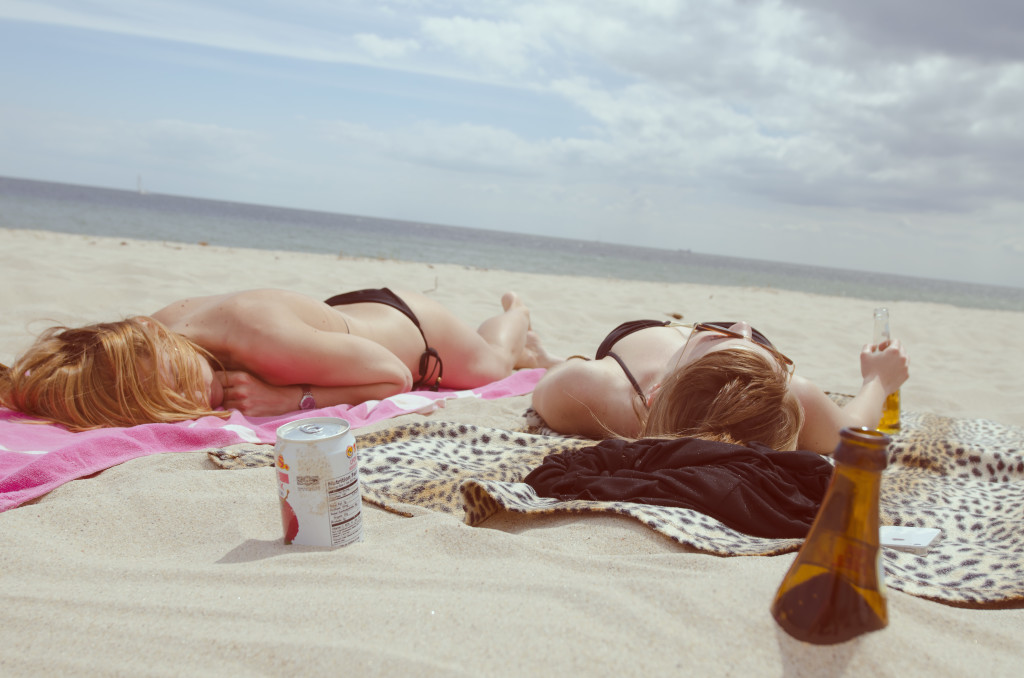 We've all been there at one point or another.
One too many heavy meals eaten out, "treats", glasses of vino, or late nights burning the midnight oil. Maybe all of the above? (*slowly raising my hand over here*)
Maybe it was a weekend away at the cottage, a beach vacation, or an endless stint of patio drinks in the summer. Or maybe life just got crazy busy.
You went off the diet, the protocol, the plan. You overate.
Maybe only temporarily, or maybe for too many days in a row. And well, now you don't feel so hot.  At least not as hot as you know you could be feeling.
So what do you do?
Well speaking from experience I can tell you that most people do one of two things:
1. Keep on doing what they're doing. They're too far gone and there's no turning back. The healthy eating and lifestyle will resume after (INSERT: the crazy week, the summer, the work deadline, the holidays, on Monday).
Or
2. Berate self for having no self-control. The new (overly restrictive) "clean" diet begins tomorrow. Swear off (INSERT: gluten, sugar, alcohol, dairy, coffee, and/or packaged foods) FOREVER!! Diet lasts exactly 3 days or until the next (INSERT: weekend, party invite, dinner out, holiday, work trip, cottage weekend, emotionally distraught day).
Sound familiar?
If you find yourself riding the pendulum from one extreme to the other (I know I personally did for years), I'd like to present you with a third option.
This is the exact prescription that I personally follow myself, whenever I have what feels like an overly indulgent period.
It requires no supplements or fancy food stuff.  It's simple, but that's the beauty of it, because if it was anything but simple it would be too easy to find an excuse to not follow it.
You just wake up one morning and quietly and discreetly put it into action – no tears, drama, or declaration to the world that you're starting a new diet.
Because life is always going to happen. There will always be birthday celebrations, long weekends, work deadlines, and holidays. And it's not to say that these events need to throw you off track, but if they happen to do so, then just keep coming back to the prescription (easy peasy).
In the end, it's what you do repeatedly and consistently that will impact your body the most over the long run.
I suggest consciously following this prescription for a minimum of 2 days, but feel free to follow it longer.
My Prescription for Overindulgence
A few things first…
This plan is designed to:
1)    Break the pattern of unfavorable food and lifestyle choices
2)    Balance blood sugar levels and reduce cravings
3)    Get digestion running smoothly and reduce belly bloat
4)    Increase energy levels and break through lethargy
5)    Leave you satisfied without feeling hungry all of the time
Guidelines to keep in mind:
1)    You know your body best so use this prescription as a template and adjust it according to your own needs. This is what I personally follow.
2)    There are no specific foods you have to eat. The sample menu is provided for inspiration only. Swap ingredients based on preference and seasonality.
3)    With regards to point #2, if you're highly active and/or lean, and weight loss isn't a motivating factor for you, feel free to include more whole-food sources of carbs with your meals (i.e. sweet potato, quinoa, brown rice, and fruit).
The Prescription (follow all 4 steps):
1) Drink more water
If you want peak energy levels, glowing skin, balanced blood sugar (read: fewer sugar cravings), and a well-functioning digestive system (read: regular BMs) then proper hydration is critical. Even mild dehydration can impair brain function, mood, energy, and leave you feeling constipated (on all levels).
This will be your main beverage throughout the day, and the very first thing you'll have in the morning after waking up – yes, before your coffee (which you can still happily enjoy if you want).
The ideal amount will vary based on your activity level, how much you sweat, your diet, among other factors, but if you're unsure then 2 liters is a good target.
Try adding cucumber slices, lemon, lime, or fresh mint to make it more enticing. Whatever it takes for you to want to drink more of it. Iced herbal tea is another great option for the summer months.
Note: Ideally during this prescription alcohol will take a back seat, but for those times when (for whatever reason) that's not an option, a glass of dry wine with dinner is acceptable (hey, I'm just being realistic).
2) Eat lighter meals
Aim for 2-3 meals per day and build them around a good quality protein, some healthy fat, and lots of low-starch vegetables.
You can eat until satisfaction (no need to measure anything) but each meal needs to include the protein and fat component to ensure that you won't be hungry a few hours later and tempted to snack.
Breakfast might be a smoothie, but at the very least lunch and dinner will include at least 50% vegetables or more.
Ideally, you won't snack in between meals, but depending on the timing of your dinner you might find you require a late-afternoon or evening snack. I personally find it helpful to think of dessert as your evening snack and wait a little while after dinner to have it. (Note: There's much more to this "no-snacking" principle which I'll address in my next blog post, but for now, just know that you'll be facilitating better digestion by creating space between meals, and you'll also be conditioning yourself to be more attuned to your true hunger)
Limiting sugars and starches (carbs) for a while will naturally lower blood sugar and insulin (your main fat storage hormone), and will help keep your hunger and cravings for sweets at bay. Also, lowering insulin triggers the kidneys to shed excess sodium and water from your body, helping to get rid of that unnecessary water weight and bloat!
*Sample Meal Plan*
Morning: Smoothie made with frozen berries, unsweetened coconut milk, chia seeds, and a scoop of protein powder OR 2-3 eggs scrambled with baby spinach in coconut oil or butter, with a side of sliced tomato and cucumber
Lunch: Chopped veggie salad with cucumber, tomato, red pepper, zucchini, and olives topped with leftover baked chicken (or other protein of your choice) and dressed with extra virgin olive oil, lemon juice, and sea salt.
Dinner: Baked Salmon, sautéed broccoli, and arugula salad w/goat's cheese
Dessert/Evening Snack (optional):  ½ cup of full-fat (plain) yogurt topped with raspberries and unsweetened shredded coconut OR a small handful of raw almonds with a few squares of dark (70% or higher) chocolate
3) Move More
It can be difficult getting back on track after you've lost momentum, but remember it's only a matter of one workout before you gain it back. Think about that high you feel after a good sweat session (you know what I'm talking about) and let that be your motivating factor.
I usually find that a high-intensity workout is the best way for me to get back into the swing of things, but choose whatever exercise feels best for you. My current routine consists of a variation of different classes through ClassPass (HIIT, Barre, Reformer Pilates), the occasional run, and TONS of walking.
If you don't currently have any type of structured exercise that you do regularly, or you don't have access to a gym or club membership right now, don't let that deter you from moving your body. At the very least get outside and GO FOR A WALK.
Fit it some form of movement wherever you can – in the morning, on your lunch hour, after dinner. Take the stairs instead of the elevator. Every step counts! Remember: as long you're more active than you were yesterday you're still making progress. In other words, going for a brisk walk will always trump sitting on your derrière in front of the television ;)
4) Get More Sleep
Individual requirements will vary from one person to another but when you meet your sleep needs (for me that's usually at least 7 hours, uninterrupted) you'll function at your best. Get to sleep at a time that's reasonable for you and your work schedule, but ideally, that will be before 11 pm.
Keep in mind that when you're sleep deprived you're more likely to make unsavory choices around food and exercise. Maybe it's that quick pick-me-up in the form of a muffin at Starbucks, or that 3rd coffee you need to get you through the afternoon. And the after-work workout session? There's no way you're making it to the gym when Netflix and chill on the couch is calling your name and sounds so much more appealing. You get the picture. Make sleep a high priority!
Want a more simplified version of this prescription?
If nothing else, just remember these 4 things:
More water
More vegetables
More movement
More sleep
What would you add to this prescription? Share your own strategies on what works for you in the comments below!
All love,
Elaine