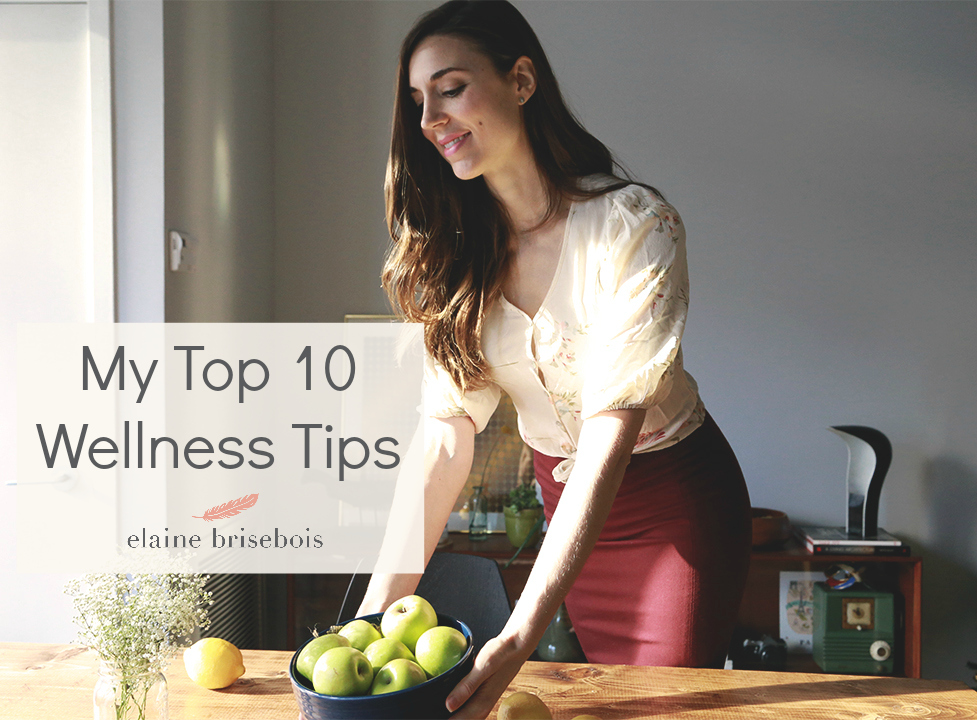 Keeping healthy goes far beyond the food we put in our mouths of course, but the food we choose to consume each day does play a huge role.
Sometimes though it's easy to get caught up in the fine details of which particular diet is best, or in the subtle nuances of one particular health principle, rather than looking at the big picture story.
Recently I was asked to share some of my top wellness tips with a group of busy professionals, and I figured I would share the list here with you as well, since we can all use a gentle reminder now and then.
If you've been reading my blog for a while now, it likely won't be the first time you've heard me mention these tips, and by now they may even be second-nature to you. For others though, this list can serve as a reference point as to which areas could use some extra attention.
As I often say (and I'm sure I sound like a broken-record to a few of my clients – ha!):
Progress, not perfection.
Here they are!
1. Keep Hydrated. Always start your day off with at least one full glass of water before you consume anything else (i.e. coffee or food). Add some freshly squeezed lemon for a detoxifying boost that will also help to stimulate digestion. Drink water or sip herbal teas between meals. Raw veggies and fruit are also water-rich and provide hydration.
2. Get in the Greens. Try and include some leafy greens or green vegetables with at least 2 meals per day. For example, you might sauté some baby kale with your morning eggs, have a big green salad at lunch, and/or include some roasted broccoli at dinner. Greens are alkalizing and help balance out the acidity of other foods.
3. Think Vegetable-Centric. I'm not one for labels but I think we can all agree that vegetables are good for us! Regardless of whether you follow a vegetarian diet or a paleo-style approach, aim to make at least 50% of your plate vegetables – especially at lunch and dinner. Think of them as the star-performers!
4. Get Serious about Digestion. Healthy digestion is the foundation of optimal health. We are what we digest, absorb and assimilate. Suffering from regular heartburn, indigestion and bloating is no way to live life and is NOT normal.  Search "digestive health" on my website for specific tips for improving digestion and healing your gut.
5. Limit Sugar. Stick to a lower sugar diet and watch your sugar cravings magically disappear. Satisfy your sweet-tooth with fruit, sulphite-free dried fruit or a few squares of 70% or higher dark chocolate. I just posted a new recipe for my date-sweetened Raw Chocolate Energy Bombs. These are the perfect little snack to curb a sweet tooth and are balanced out with plenty of healthy fat and protein. Save the sugary stuff for occasional treats.
6. Don't Fear Fat. Just be sure to choose the right ones! In with the avocados, coconuts, olives, salmon, raw nuts and seeds, whole eggs and butter, and out with the hydrogenated and partially-hydrogenated, "man-made" fats – i.e. store-bought salad dressings, margarines, and commercial vegetable oils found in many packaged foods like cookies, crackers and chips.
7. Get Your Beauty Sleep. Aim for 7-8 hours of solid sleep per night for optimal health and regeneration. Upgrade your sleep hygiene if you have problems sleeping. Disconnect from all electronic devices at least a few hours before bed and make sure your room is completely dark – if not wear an eye mask to block out any light.
8. Move your Body. Stay active and exercise regularly. Get outside for daily walks, hit the gym, or take a class – whatever feels good to you. If you're sitting at your desk all day stand up regularly and take mini stretch breaks.
9. Manage Stress. Stress is a silent killer. It disrupts our hormonal balance and can lead to a whole whack of health problems, not to mention make it impossible to lose weight. Take time out for yourself, get regular nature breaks, look on the bright side of things, and if possible develop a mediation practice to help diminish stress and anxiety.
10. Prep (a little). You don't have to devote an entire Sunday afternoon to food prep but a little groundwork is necessary especially if you have a hectic work schedule and are dedicated to eating healthy. You'd be surprised at what you can get done when you get creative with your time, like throwing together a salad while you're waiting for the kettle to boil, or roasting a tray of vegetables while you're doing the laundry. Aim to pack your lunch at least 3-4 days per week (if not more). Bring leftovers from dinner and stock your desk with a few healthy snacks so you're ready when hunger-strikes rather than running to the nearest coffee shop for a sugar fix. Did I already mention my Raw Chocolate Energy Bombs?
As always I love hearing from you! In the comments below let me know which tips you're already easily incorporating into your life and/or which areas you struggle with the most.
xo Elaine